bernardo horta + meius arquitetura build prefab house within mountainous ladscape in brazil
bernardo horta arquiteto and meius arquitetura have designed 'casa pasargada', a prefabricated house located within an residential complex in nova lima, brazil. the simple design consists of two rectangular volumes with identical dimensions and external coverings that overlap due to the perpendicular positioning.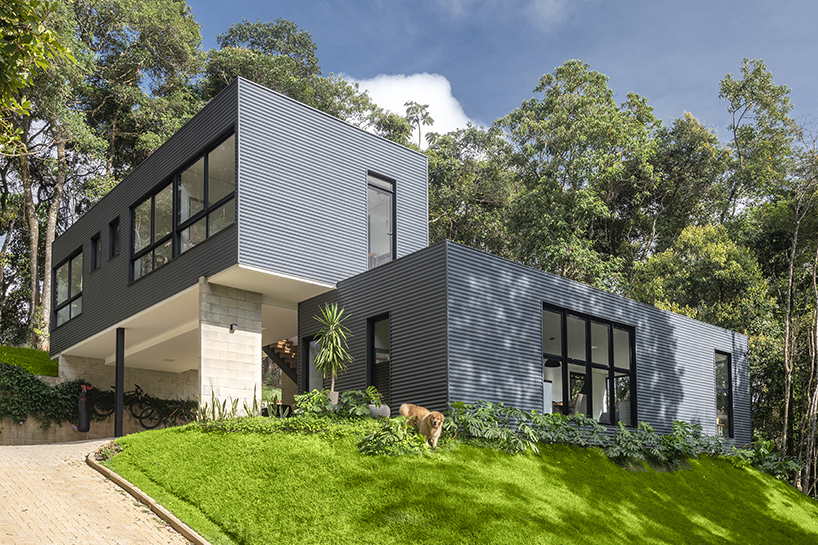 southeast facade 
all images by daniel mansur
bernardo horta arquiteto and meius arquitetura have placed the building within the natural surroundings, creating a contrast and integrating the build space into the environment in a distinct way. the large windows of the building allow sunlight to brighten the interior and direct the views to the surrounding vegetation and the blue sky. the preserved trees that decorate the whole site, ensure privacy and sufficient shading for the residents. the external facades of the linear design, covered with metallic corrugated tile, contrast the organic forms and materiality of nature.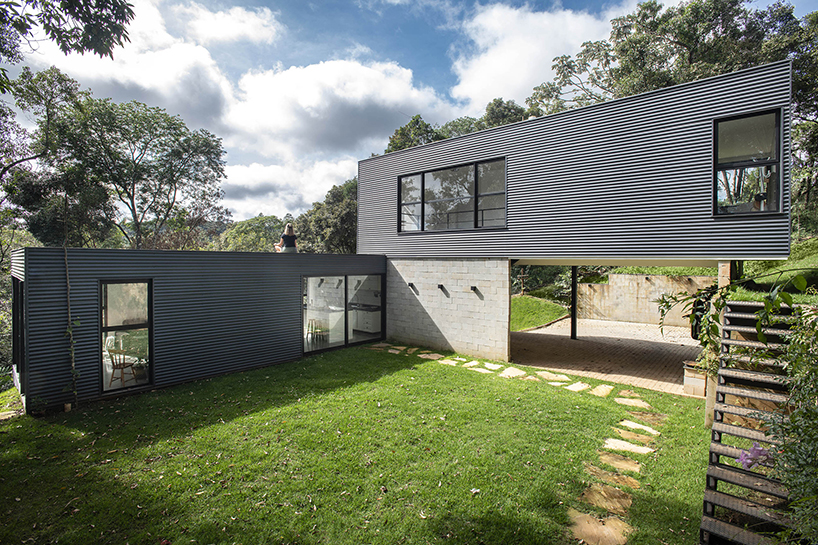 central courtyard and terrace
valuing both exterior and interior areas, the architects took advantage of the spacious site and designed a patio between the private and social section of the residence. the overlapping volumes free most of the flat land area, allowing inhabitants to enjoy the exterior and use it as a garden. a large sliding door opens the kitchen and living room to the outside, encouraging the collective use of spaces and providing possible simultaneous use – external and internal. the private part of the program consists of three bedrooms, the study and the bathrooms, and is placed on the second floor, isolated from the social area. the horizontal and vertical circulations act as a barrier between the spaces and the openings of the other environments aim for the native vegetation and for the south orientation of the lot.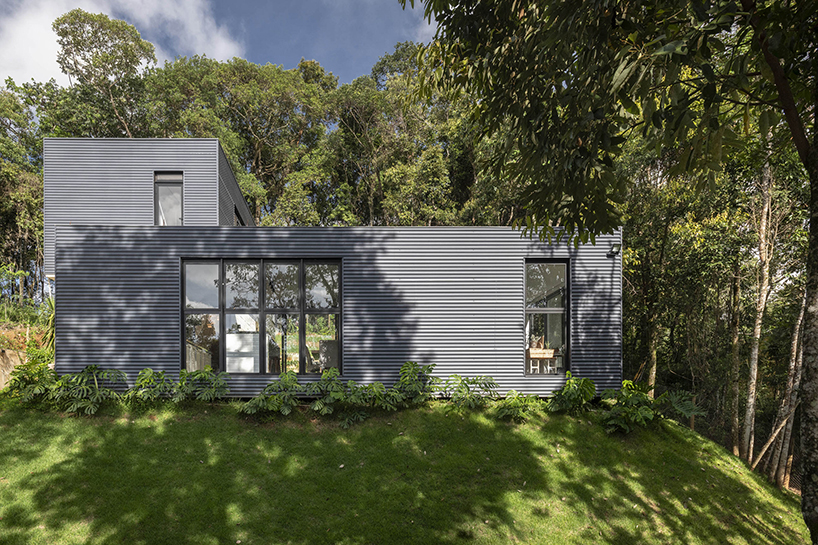 southeast facade 
the house was designed based on a mixed structural logic composed of heavy steel profiles – which structure the second floor, light steel frame (LSF) and concrete. the metallic mesh that uses cold-formed steel profiles makes up the entire structural box on the first and second floors. braces, anchor bolts, connection plates, and reinforcement are part of the assembly kit fixed only by screws. in the assembly system used, the parts come with the exact dimensioning according to the structural design and with the holes already made for connecting the parts, avoiding cutouts and leftover materials in the work. the external façades, as well as the roof structure, were covered with an impermeable blanket, ensuring watertightness against the presence of water or moisture. for the thermal and acoustic insulation the sandwich system was used on the walls, formed by plasterboard, rock wool, chipboard slabs and permeable membrane. taking as a premise of use the materials described above, the house became composed of materials that brought agility in its assembly.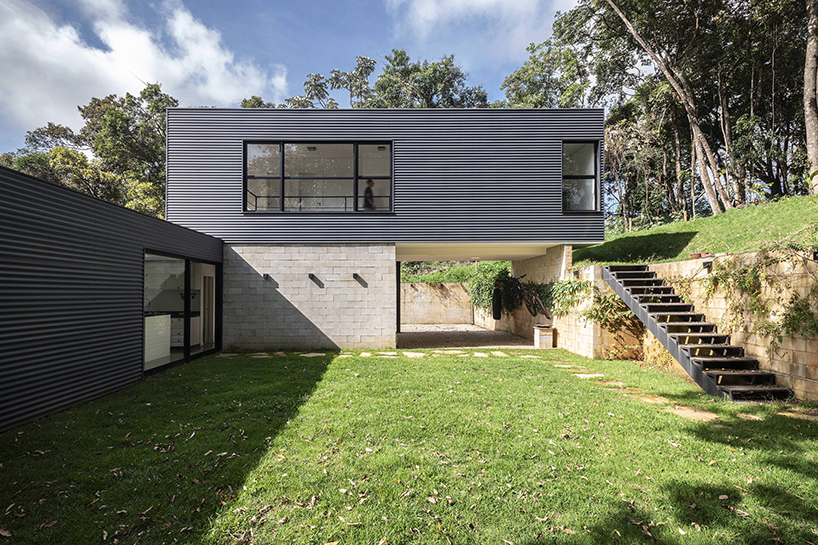 central courtyard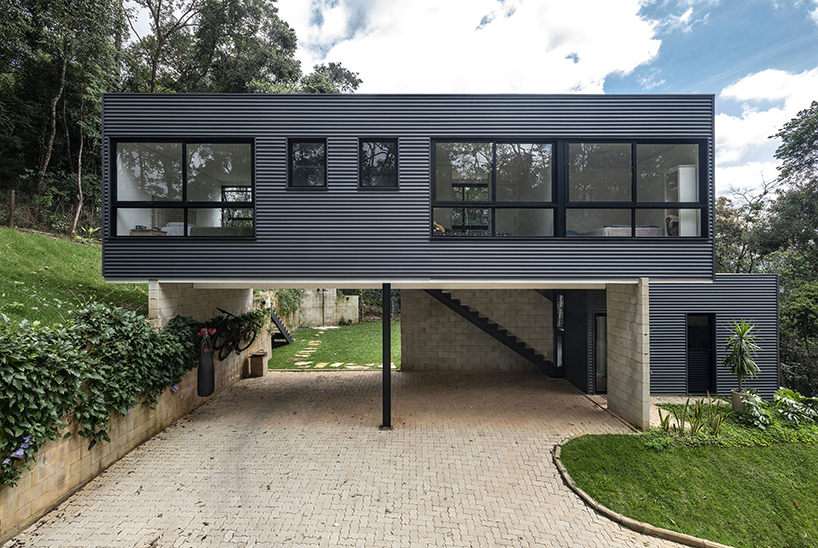 detail southeast facade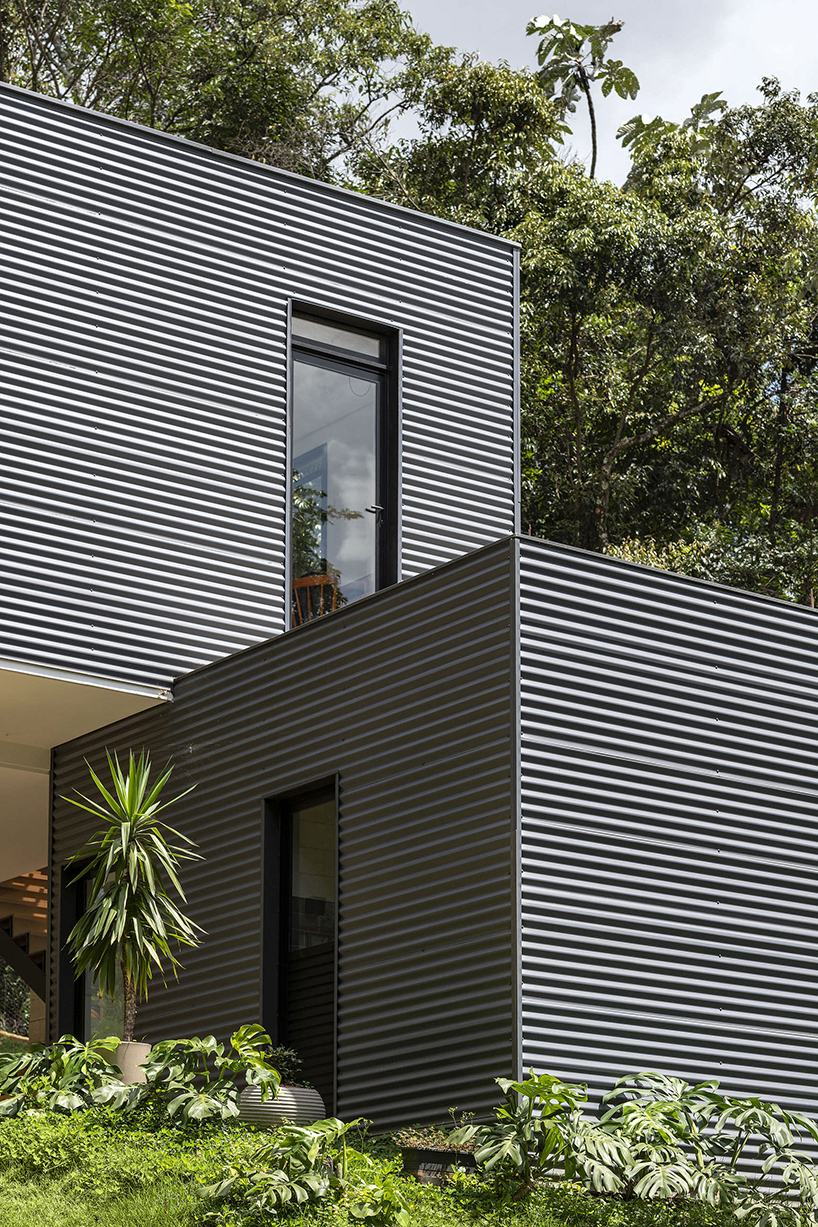 overlapping facade volumes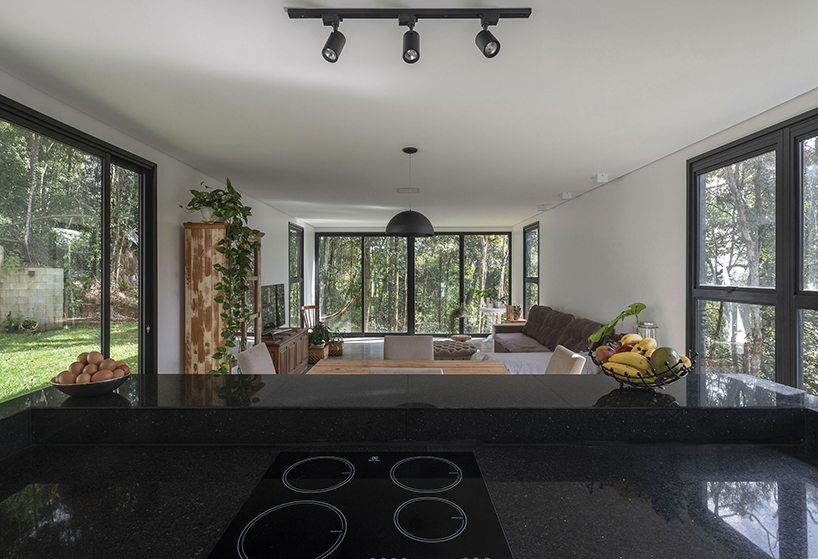 kitchen and living room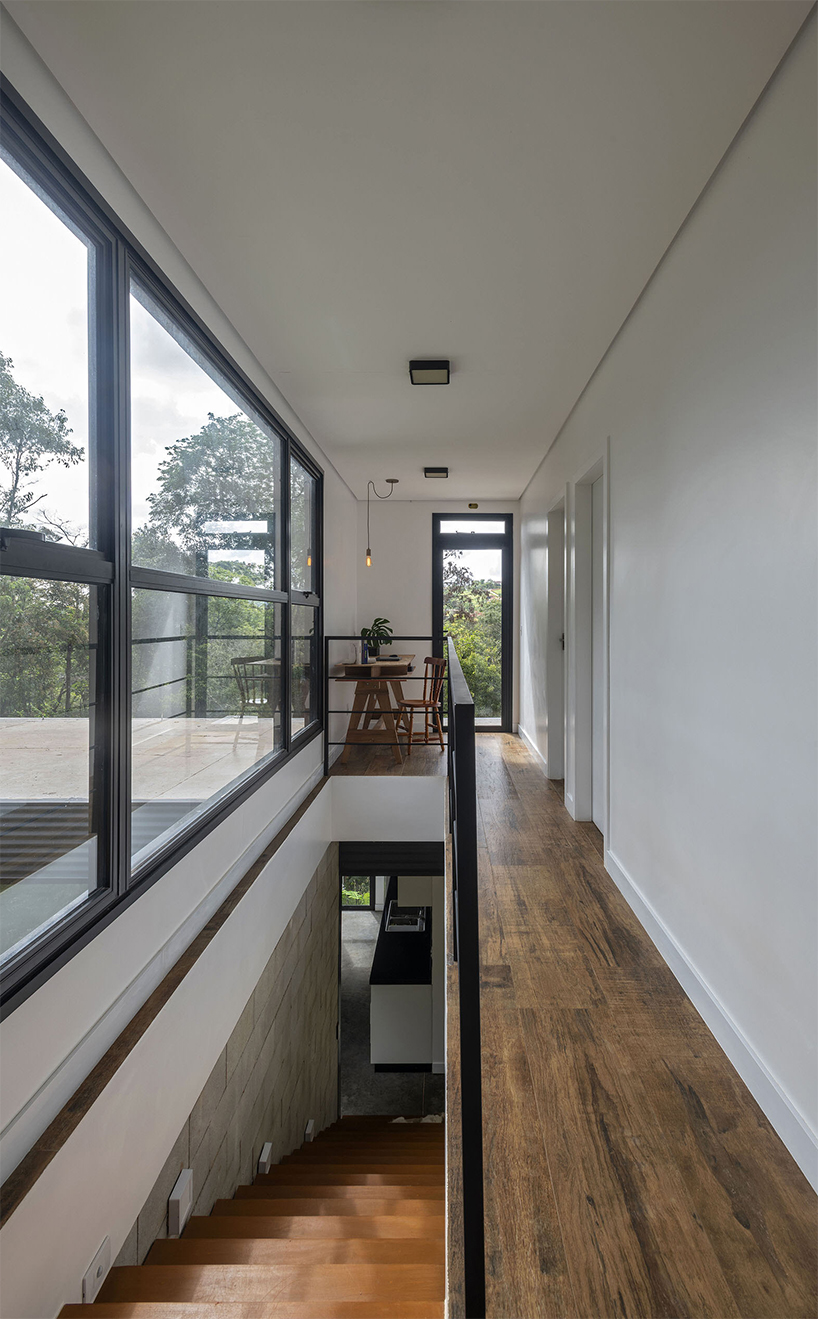 stairs to first floor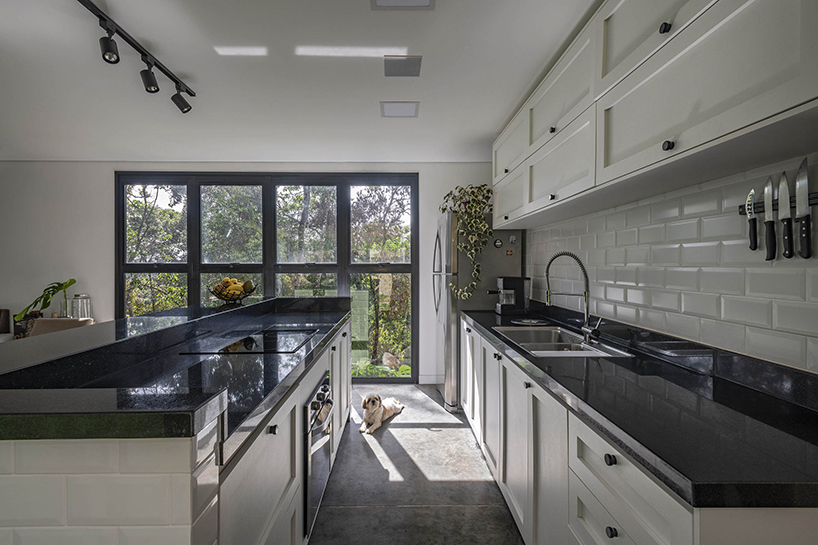 kitchen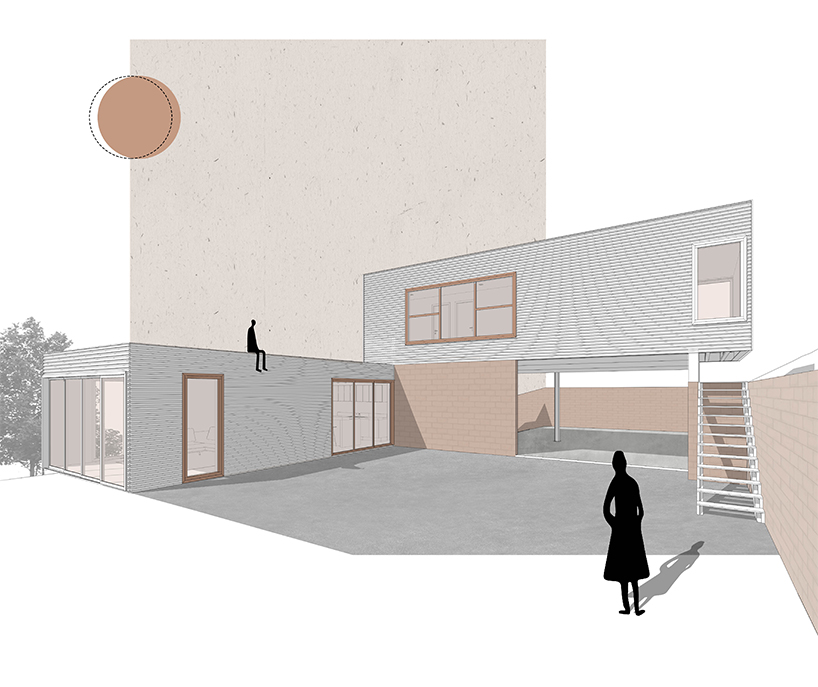 central courtyard illustration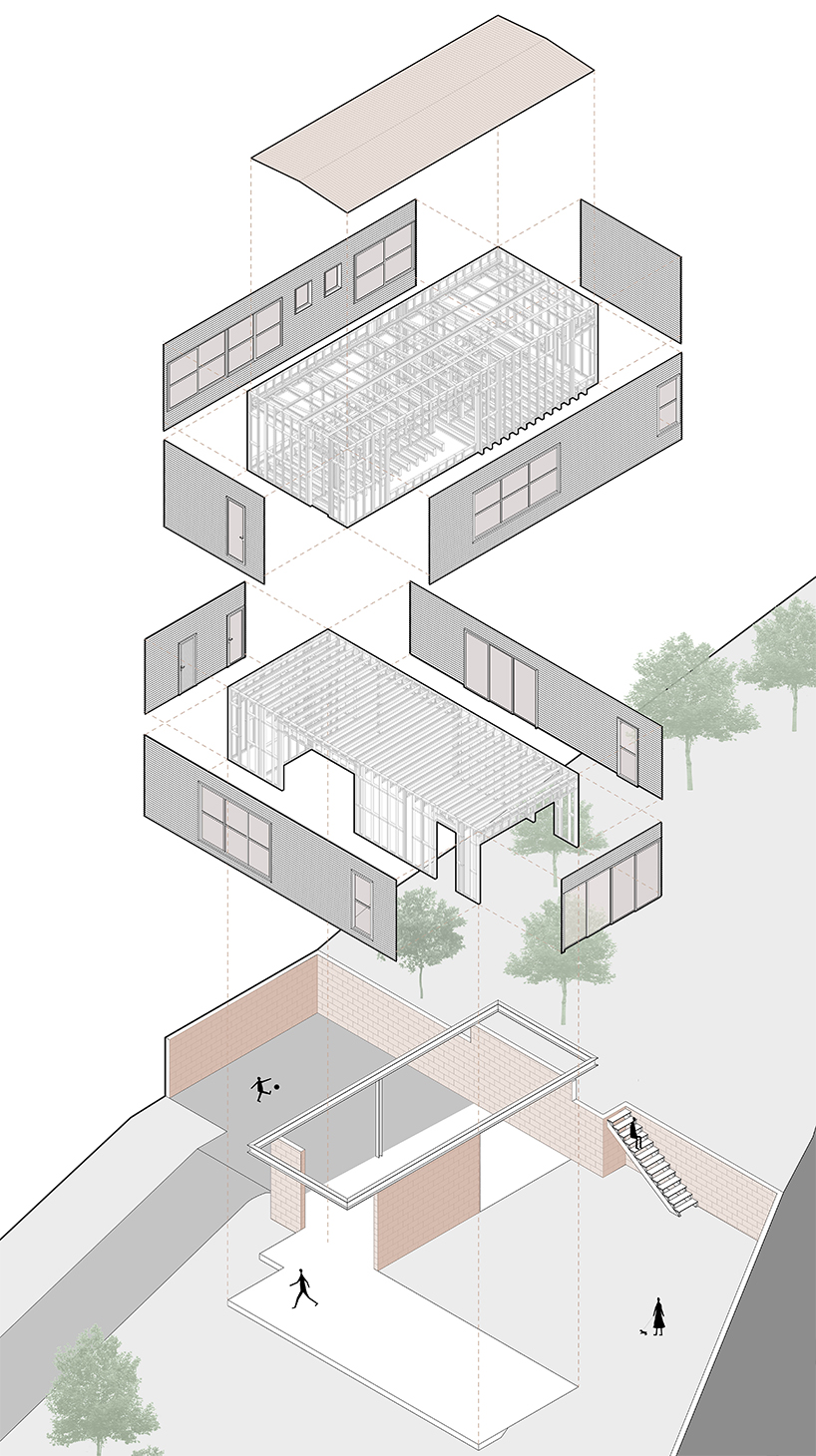 exploded-view drawing
project info:
name: casa pasargada
architects: bernardo horta arquiteto, meius arquitetura
area: 168,60m²
location: nova lima, minas gerais, brasil