daw office restores an 18th century building with a community rooftop in barcelona
a residential building in the heart of barcelona, dating back to 1790, has been thoughtfully renovated by the team at daw office to create 13 new apartments. the project carefully preserves historic elements of the structure while introducing a contemporary design, resulting in past and present delicately weaving in between one other. 
all images © aitor estévez
positioned in between party walls on barcelona's princesa street, the building comprises a ground floor, four standard floors, plus an attic level with a community rooftop. the original structure has undergone many interventions since it was first built, including an expansion in 1850 that generated the main façade onto a then newly opened princesa street. this latest project by daw office transforms the existing 9 apartments into 13. 
as well as increasing the number of apartments, the building's accessibility has also been improved with a new elevator built into the eye of the staircase. featuring a permeable enclosure, the elevator aims to maintain the open feeling of the staircase while providing vital access to those unable to take the stairs. 
as soon as residents step into the building it is clear to see how daw office has recovered the historic elements of the original architecture. one of these is the recovery of the exterior carriage entrance connected to the main patio. this patio was condemned by the consolidation of the ground floor and the main floor; the project restores the original condition of the patio to the ground floor, thus improving the lighting and ventilation of the interiors. inside the apartments, original timber beams and stonework are exposed within the contemporary design, creating a beautiful fusion of old and new. 
the community rooftop is composed of white external walls and red floor tiles, which, through a system of gargoyles, collect rainwater from the roof into an old cistern located in the underground floor. the building recycles this water for use in sanitary equipment.
on the ground floor, the visual permeability of the commercial premises between princesa street and boquer street is enhanced by the recovery of light from the original patios. the intervention on the ground floor also restores materials of the original construction: masonry walls, stone arches and montjuic stone paving that was previously hidden. likewise, partitions and interior divisions that have been added over time and that do not constitute load-bearing walls were eliminated to bring the architecture back to its original form.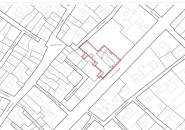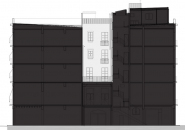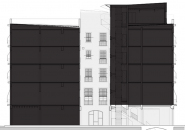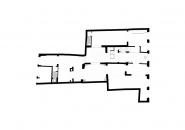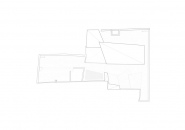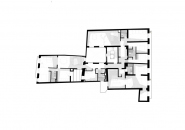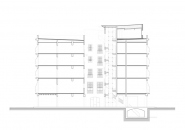 project info:
project type: renovation of a residential building
location: carrer princesa 19, barcelona, spain
client: BMB investment
architect: david garcía (daw office)
daw office team: jesús amengual (responsible for construction management), violeta linares, aina tugores, carlos tugores, pablo navas, laura pérez, cristina sarandeses, anna martínez y claudia pecharromán
collaborators: CVC (structure and facilities), constructora del cardoner (main contractor), CHROMA (restorer)
project dates: 2017 – 2018
works: 2018 – 2019
budget: €2,000,000
built area: 23,885 ft2 (2,219 m2)
photography: aitor estévez