DDAA embeds speakers in glass flooring within bang & olufsen flagship store in tokyo
DDAA has revealed their design for the flagship store of audio-visual brand bang & olufsen in tokyo, japan. located on namiki-dori street in ginza, the building was completed in 1960 and is scheduled to be demolished in the following two years. the design concept of the project was based on creating a living room-like space, where users can simulate their own lives, rather than just experiencing the products. in addition, great attention was paid to forming an environment that fuses tokyo-ness with danish-ness and the elegant craftsmanship of B&O.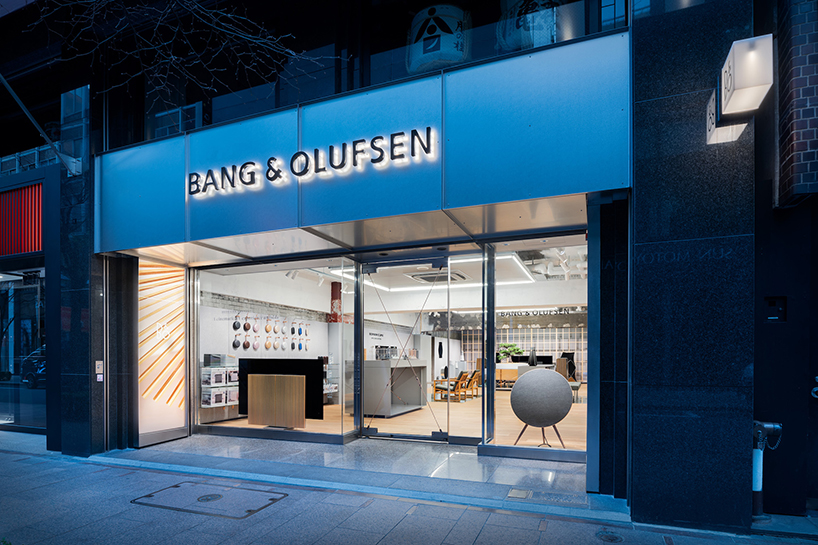 all images by tomooki kengaku, kenta hasegawa
in recognition to B&O's brand purpose 'to create timelessly distinctive products that challenge conventions and engage imaginations', DDAA proposed a space where commonalities and contrasts between danish and japanese culture, as well as vintage furniture and contemporary design can co-exist. the basic layout plan was requested by the brand design team, with the store including an open space where products are showcased, a meeting room, and a backyard. instead of laying rugs as the B&O team suggested, the designers dismantled the floor, placed wirings for the speakers and covered them with glass. in this way, cables which are usually hidden inside walls or floors, are now carefully displayed through the glass cases. the glass 'rugs' are topped with vintage danish furniture produced in the same period as the building's completion year.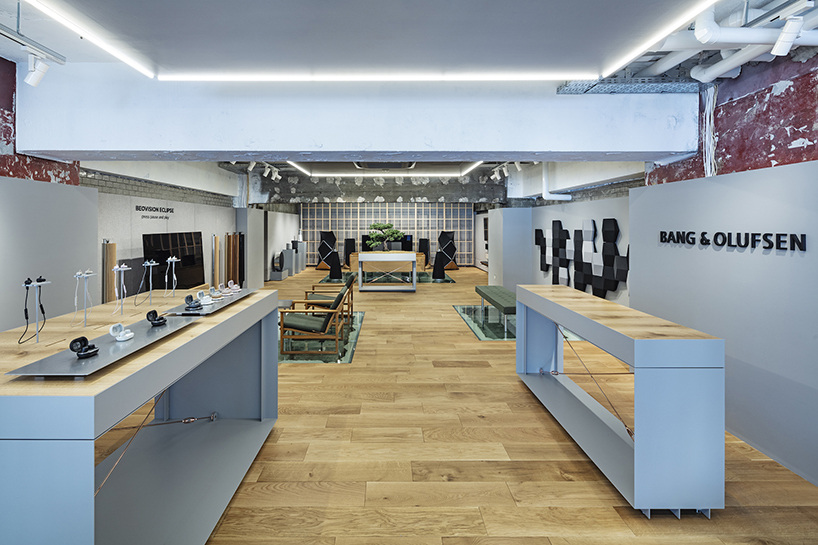 both denmark and japan have a culture of woodworking that is rooted in their craftsmanship. attention to detail and technique is apparent within the store, with glass flooring revealing the neat speaker wiring, and copper plating used on cross braces supporting the structure of the entrance door. a 60 yeard old bonsai tree is set in the center of the store, further symbolizing the historical backround of the building and the context of vintage furniture in the modern interior. the table in the meeting room is made out of transparent acrylic except for the joints, which are copper plated in order to be the only visible element.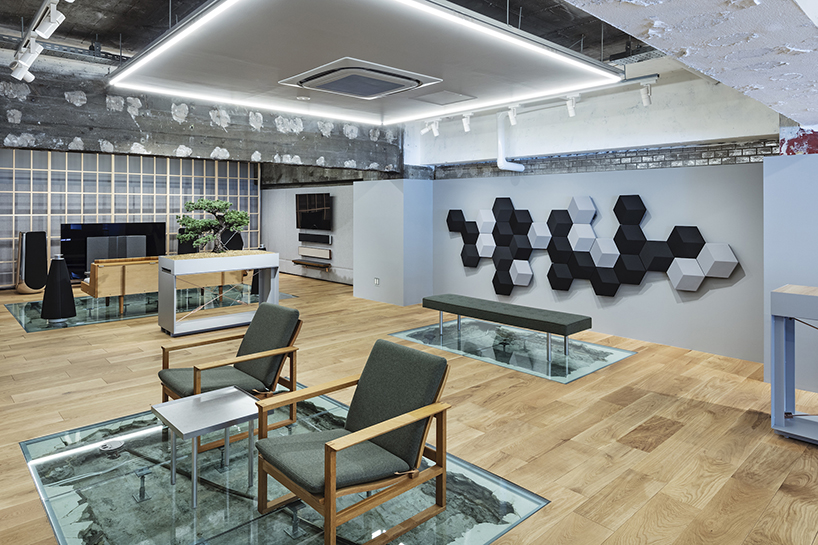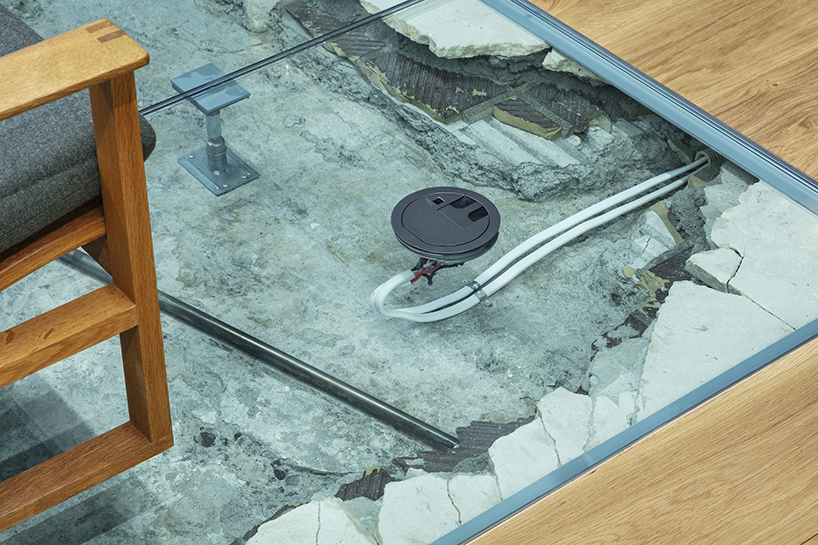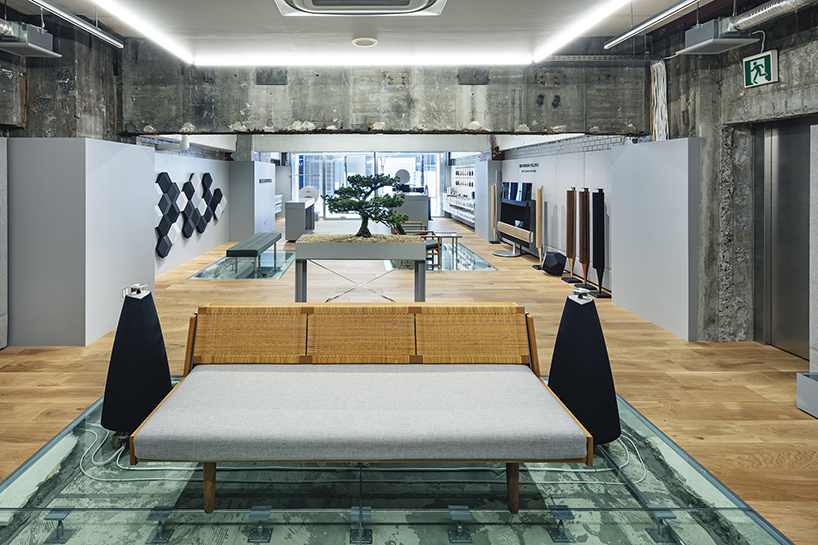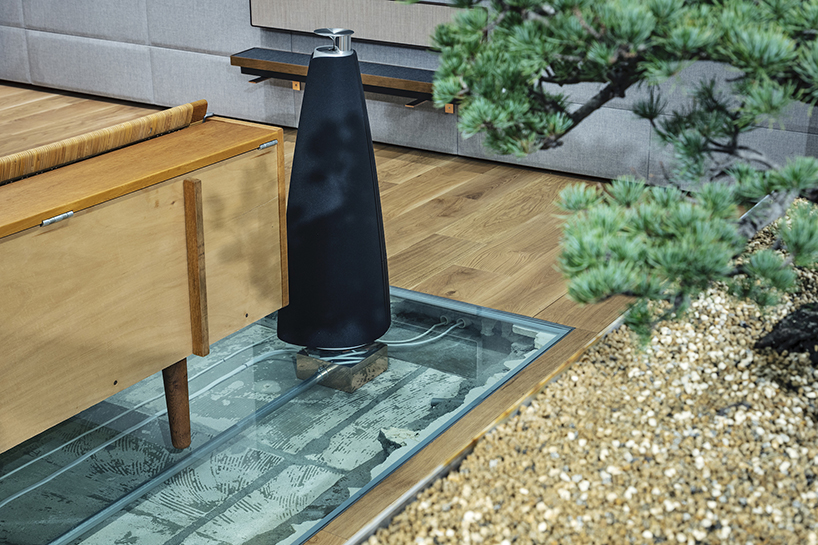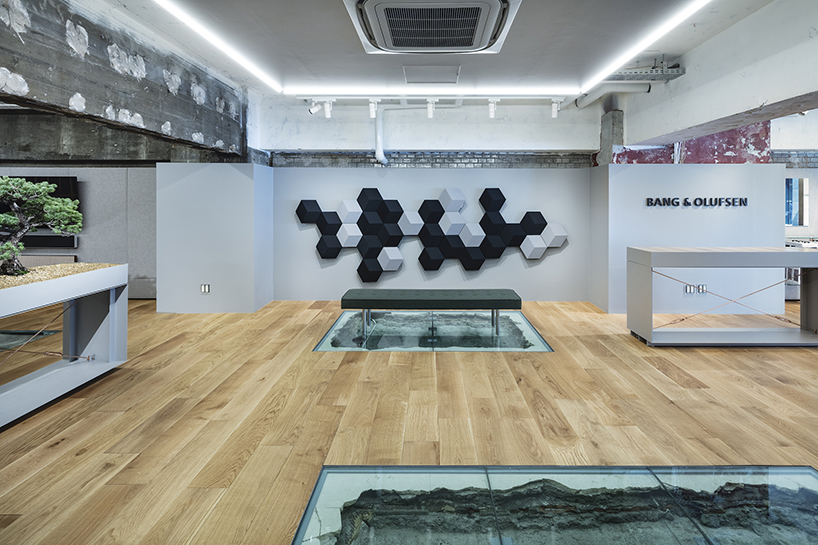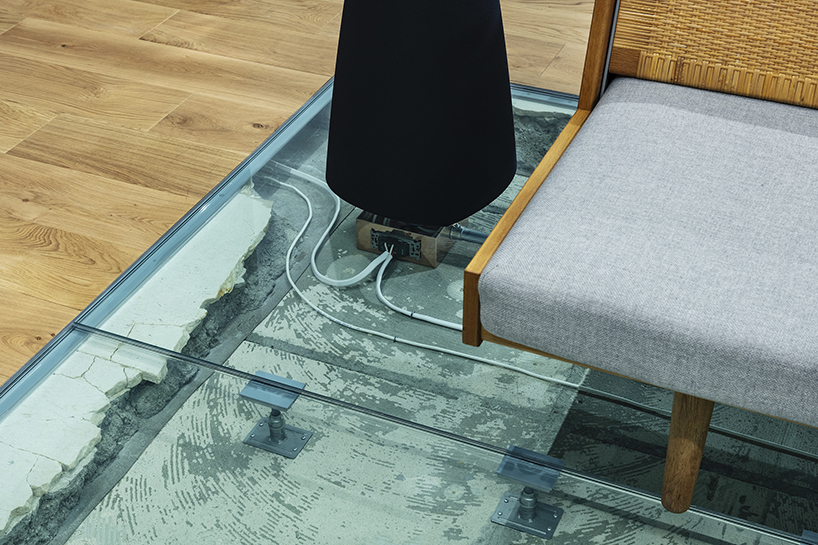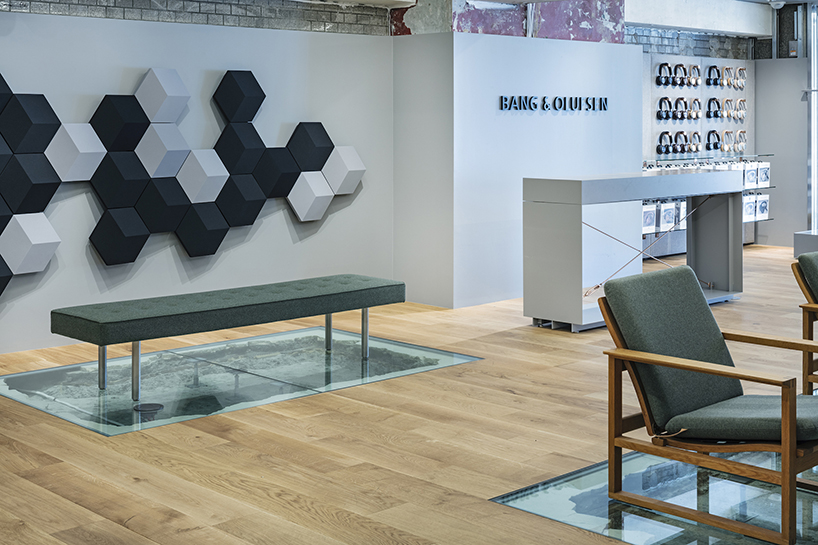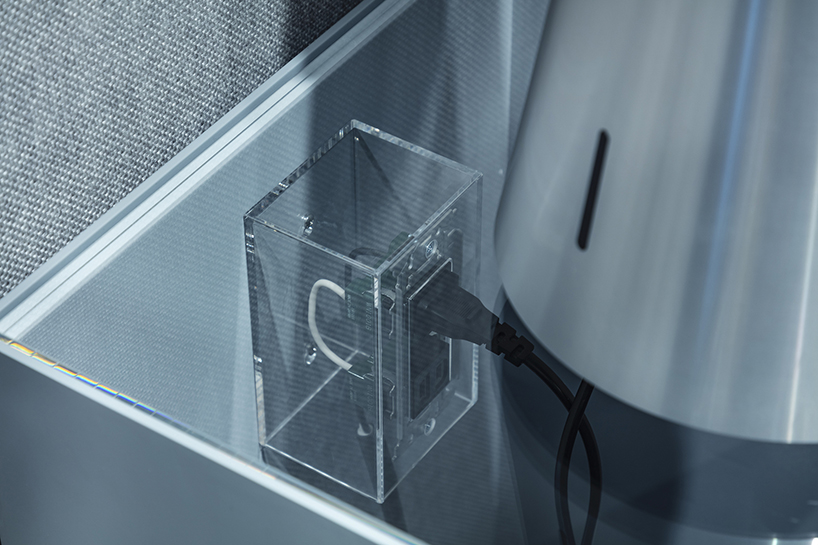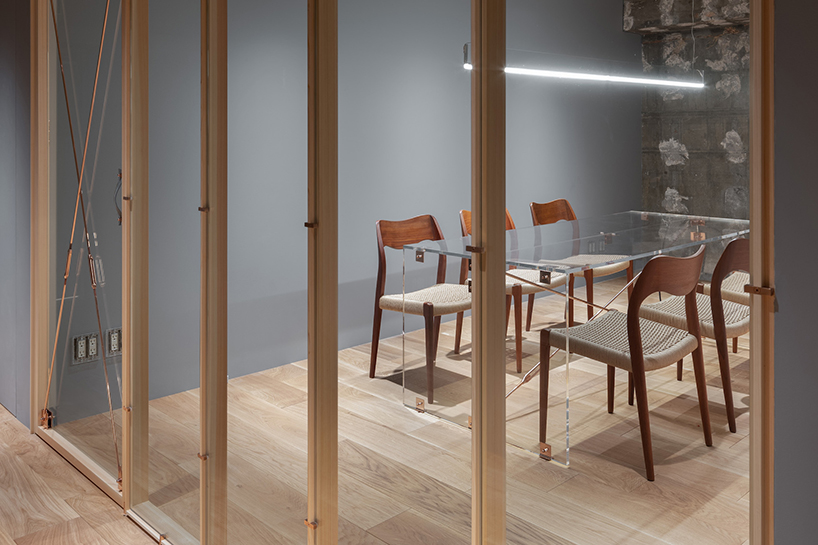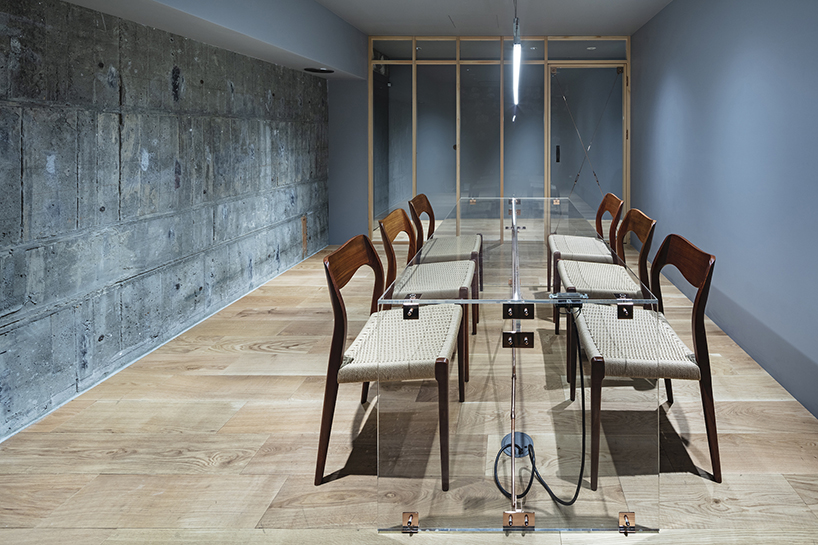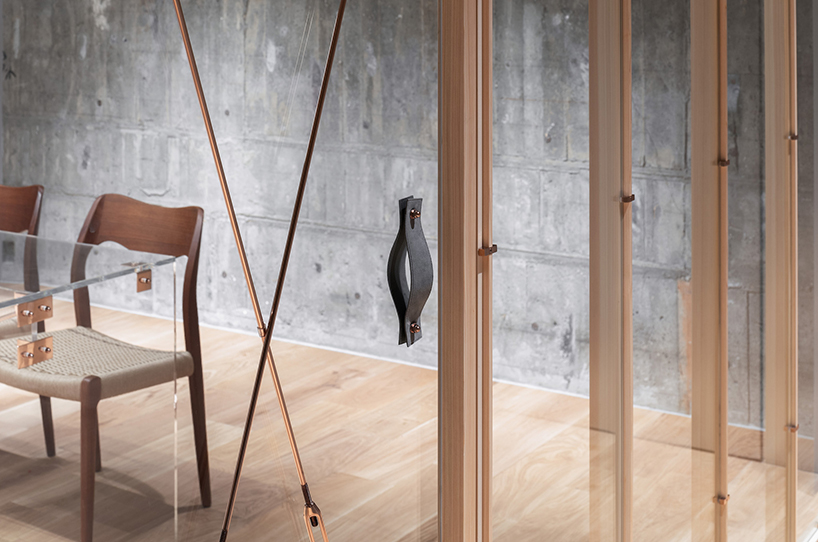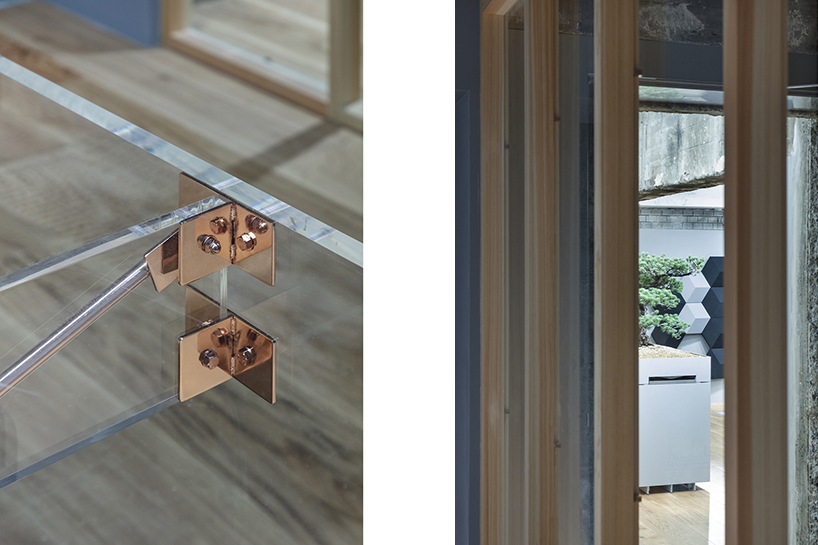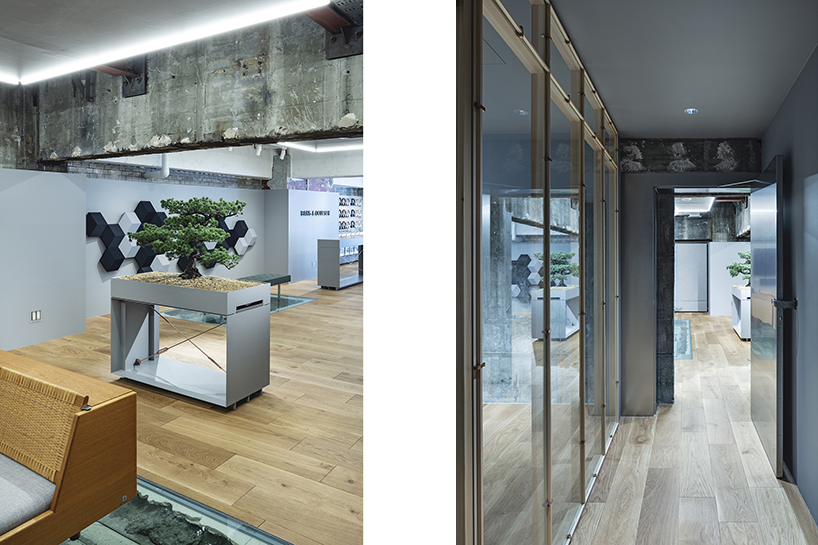 project info:
architects: DDAA
project team: daisuke motogi, kazuya sumida
client: bang & olufsen
location: chuo-ku, tokyo
total floor area:162.38m²
construction: murayama inc.
furniture production: e&y, kogazo
planting: qusamura