fabio viale transforms marble into polystyrene, rubber and plastics
italian sculptor fabio viale combines stone and classicism with an impression of immeasurable lightness… and this sensation, however, grows if you are lucky enough to touch a polystyrene wing of 'nike', or a lock of hair of the 'italic venus'. through the mechanism of metamorphosis a new mechanism is created that enchants, and enchantment is what creates the spell of his art. 
see fabio viale when he tattoos classical marble sculptures.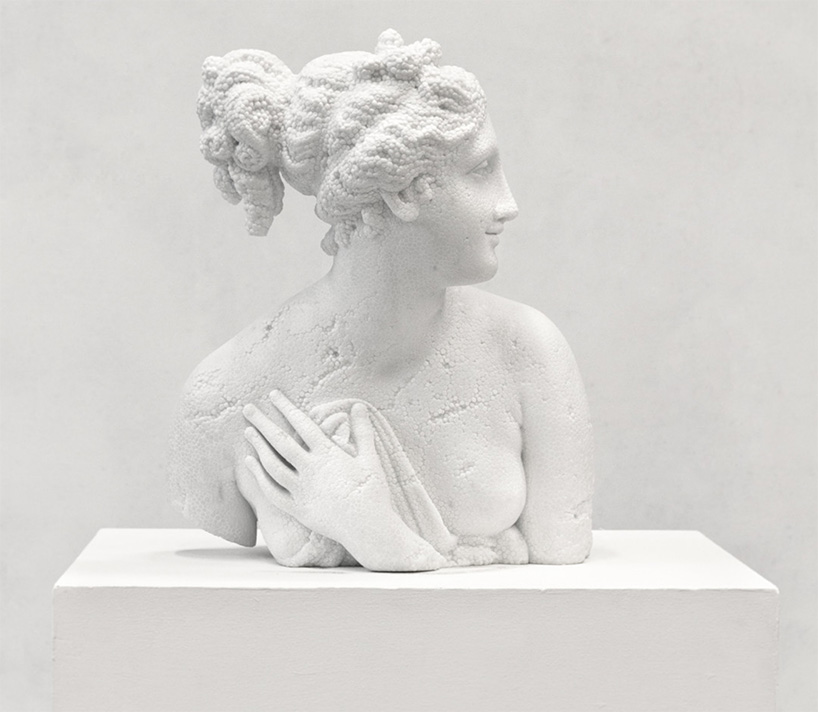 'venere italica' by fabio viale, 2016
all images courtesy the artist
sculptures that delude, seduce, and surprise, translated into the most noble of artistic materials: the statuary marble of carrara, the artist's chosen material.
designboom (DB): how are you capable of transforming marble into polystyrene?
fabio viale (FV): take for example the nike sculpture: this marble stone is called acquazzurra (azure blue), coming from quarries that never see sunlight, because they are exposed to the north.
it is an extremely glassy and crystalline marble and it's fantastic for creating the polystyrene effect. every single ball is hand-carved with a tool, a small drill also used by dentist. the processing is long and arduous, because it must be capable of transforming a hard, resistant and noble material such as marble into a material with a polystyrene effect, very light and very poor.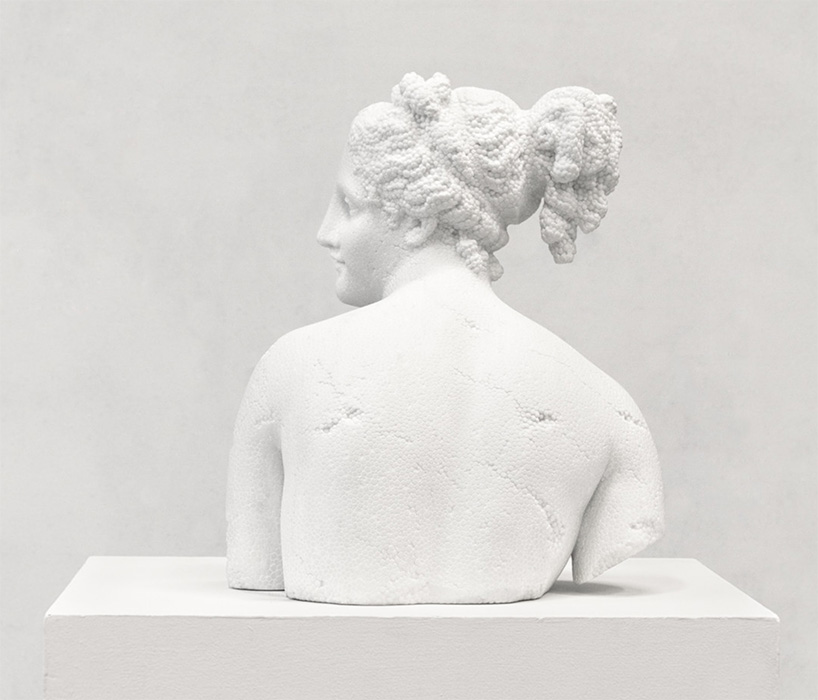 'venere italica' by fabio viale, 2016
DB:many of your sculptures reproduce the greek and roman busts, in a modern translation that is not limited to quotationism…
FV: I'm not an obsessive fan of ancient art. actually I see myself as a sculptor and not as an artist. being a sculptor, I am passionate about materials and shapes, I walk my way serenely. I am interested in art icons, but always in relation to the contemporary, since I always intend to create a fracture.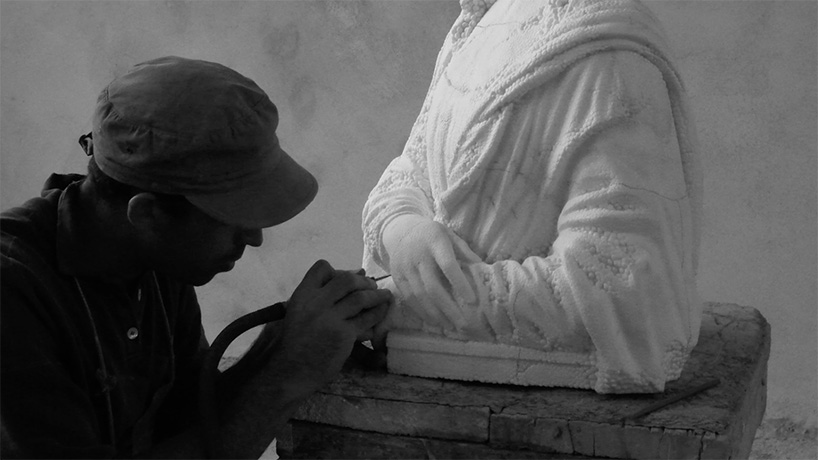 artist fabio viale at work – an illusionist of matter
DB:investigation of reality, is this the proposed experience?
FV: these works mislead our perception by pushing us to deepen the truth behind the appearance. thus rubber and polystyrene pretend to be marble, and vice versa, intertwining a sequence of sensory traps that lead the active observer to questioning himself on the eternal contrast between being and appearing, between matter and form.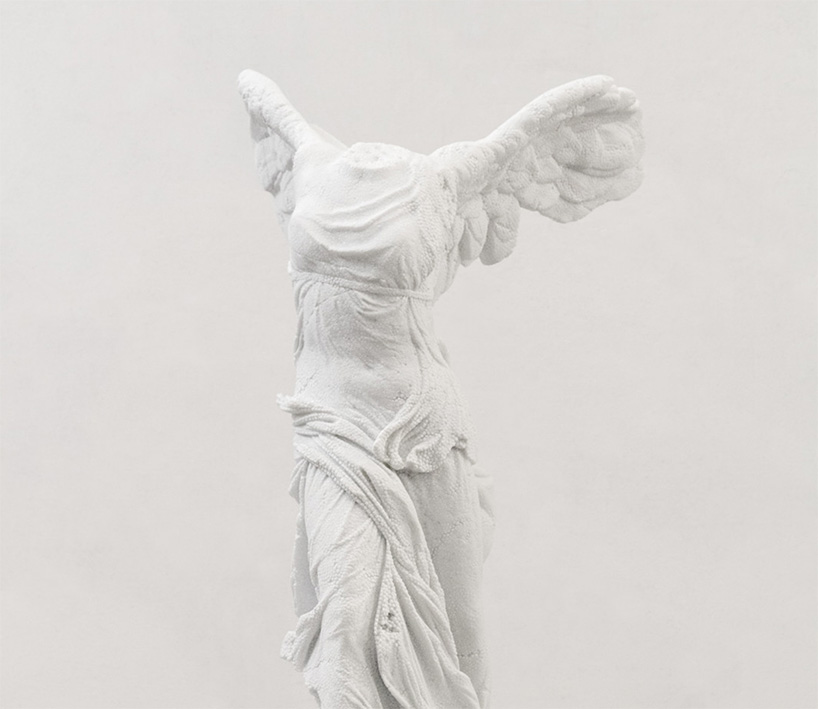 'nike' by fabio viale, 2017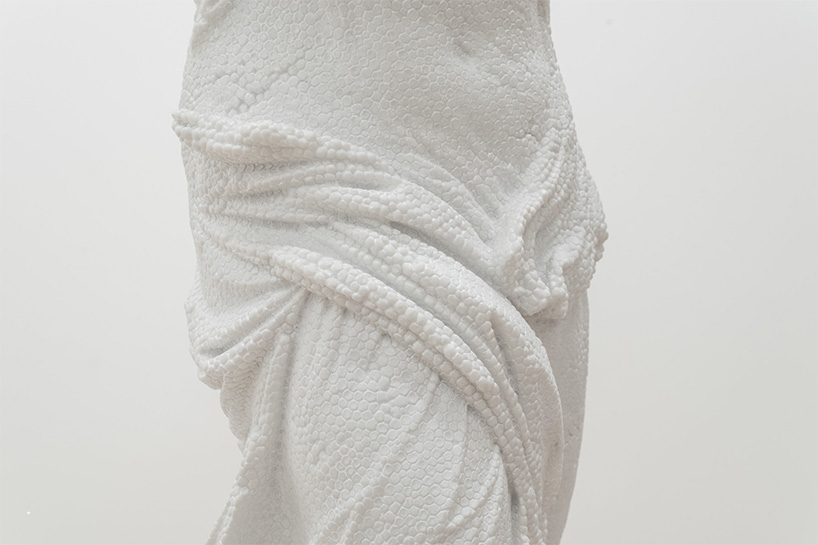 detail of 'nike' by fabio viale, 2017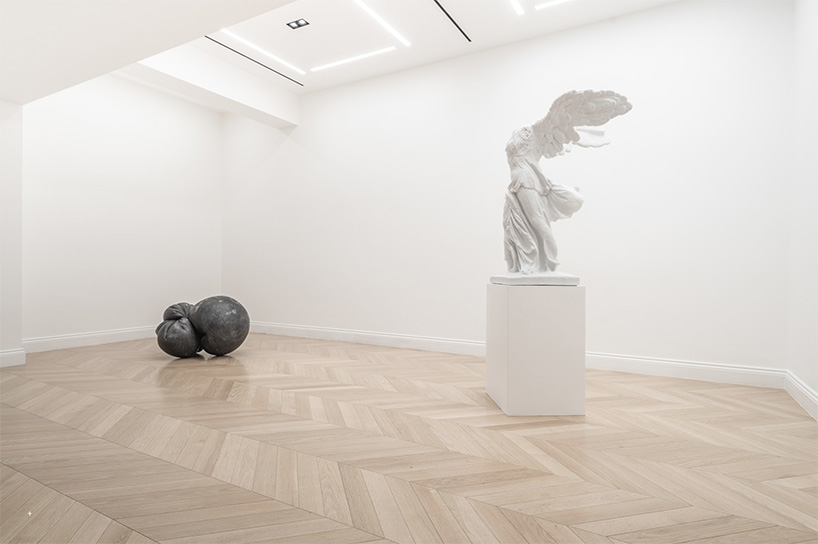 DB: how were you able to create rubber surfaces out of marble?
FV: making these sculptures requires maximum concentration: the operation involves a lot of patience and the use of different techniques for a final result that deludes the viewer on the likelihood of the material. the 'infinito' or 'earth' works in black marble, in addition to being recognizable for the classic texture, release the typical smell of rubber: a perceptive deception that conquers our brain!'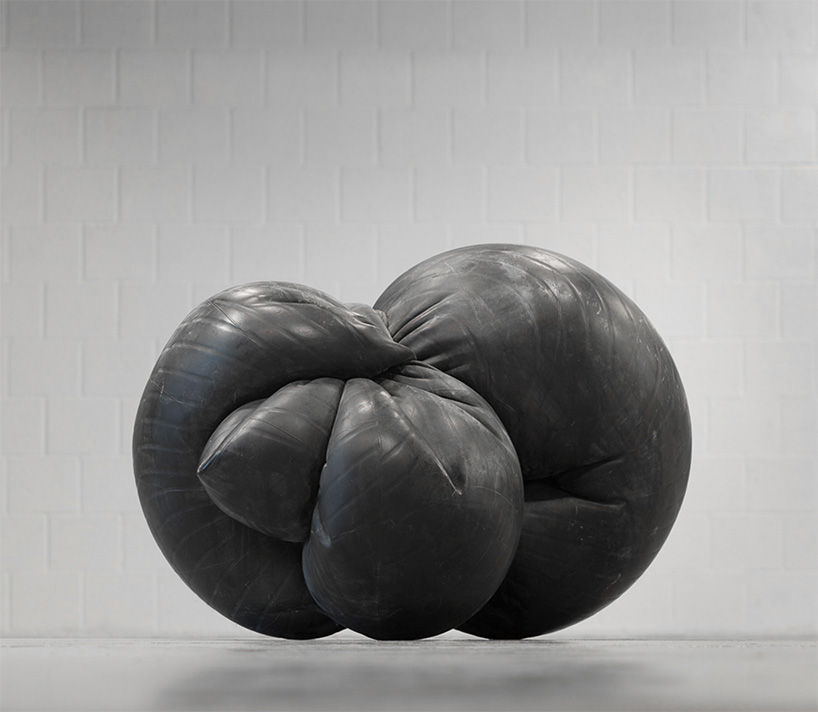 'orbitale' by fabio viale, 2017
DB: why wheels and tires?
FV: for me, wheels and the tires, mostly stuck in themselves, are nothing more than the formal result of the habits, movements and actions of mass society.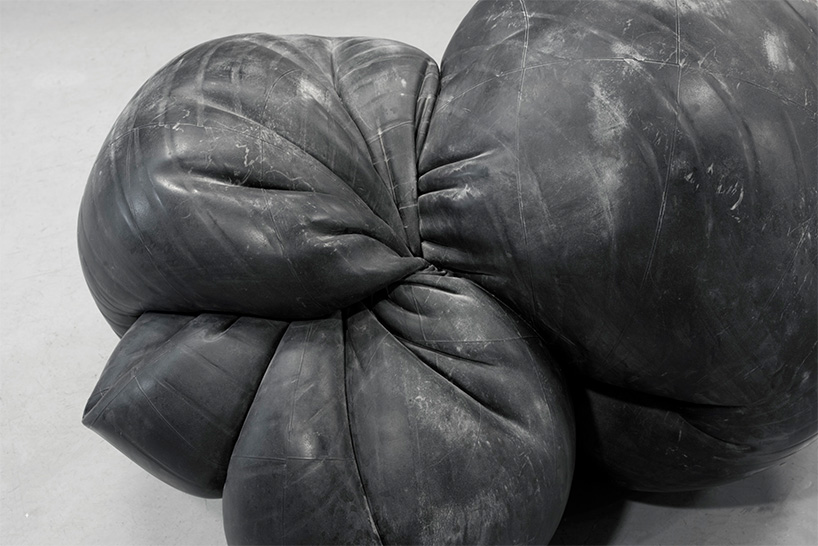 a deflated and folded inner tube, detail of 'orbitale' by fabio viale, 2017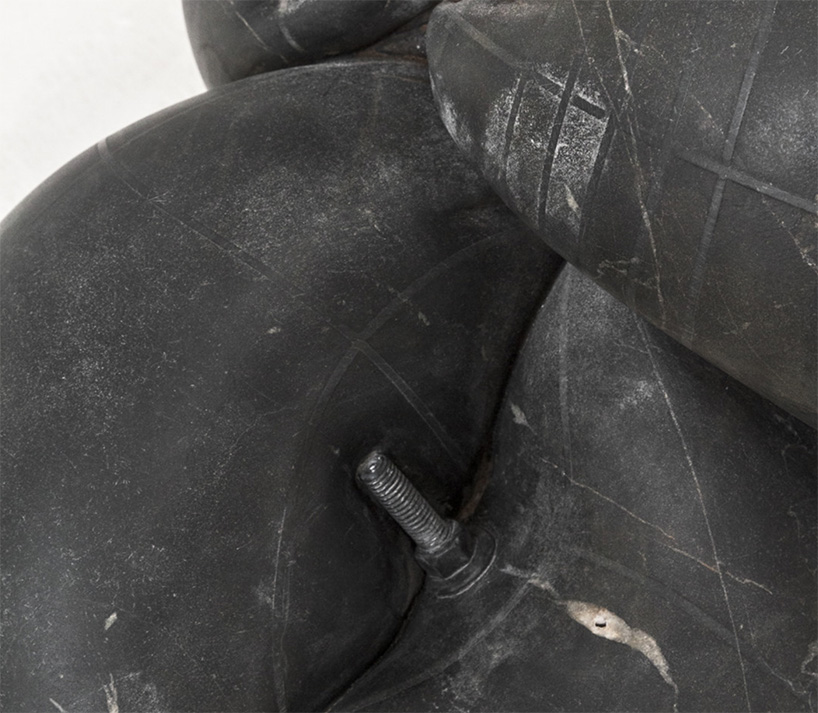 detail of 'orbitale' by fabio viale, 2017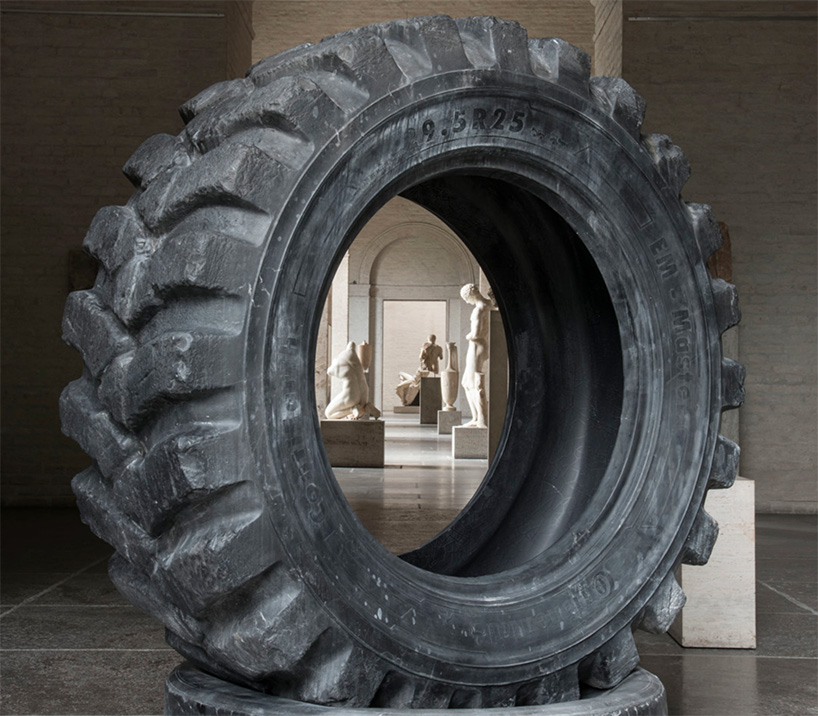 the immediacy of material contrast (here marble and rubber) plays a fundamental role in all of fabio viale's works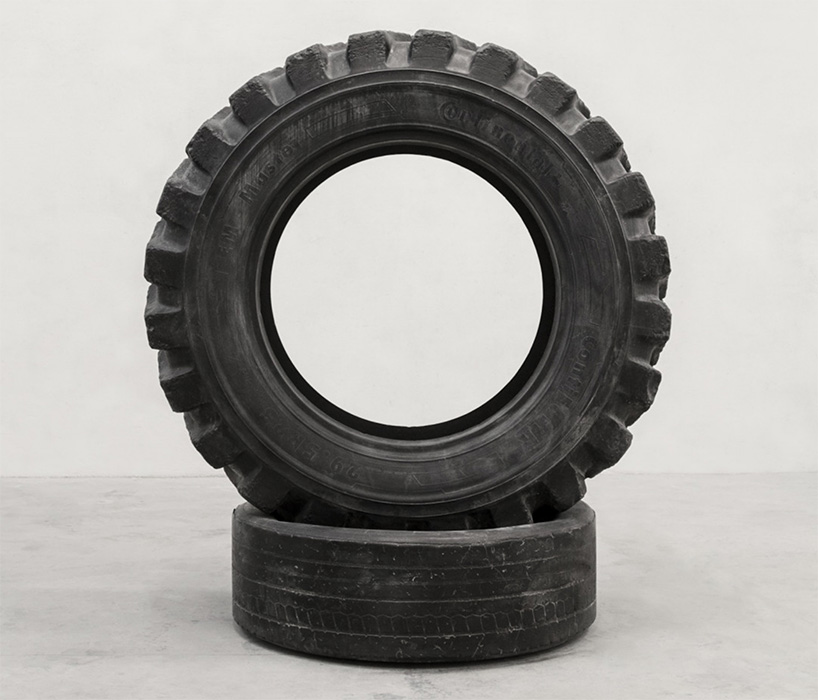 'earth' by fabio viale, 2017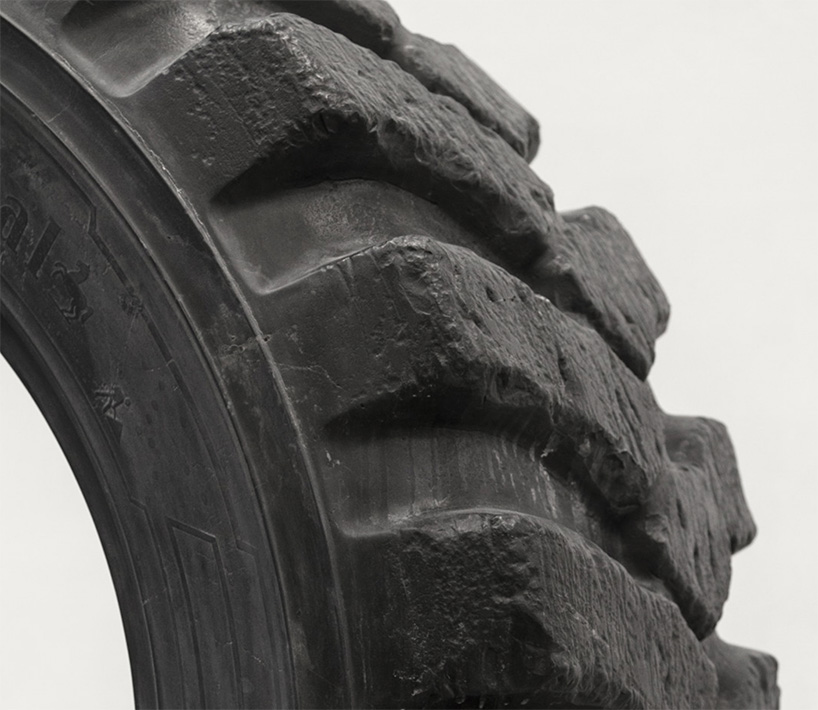 'earth' by fabio viale, 2017, shows traces of use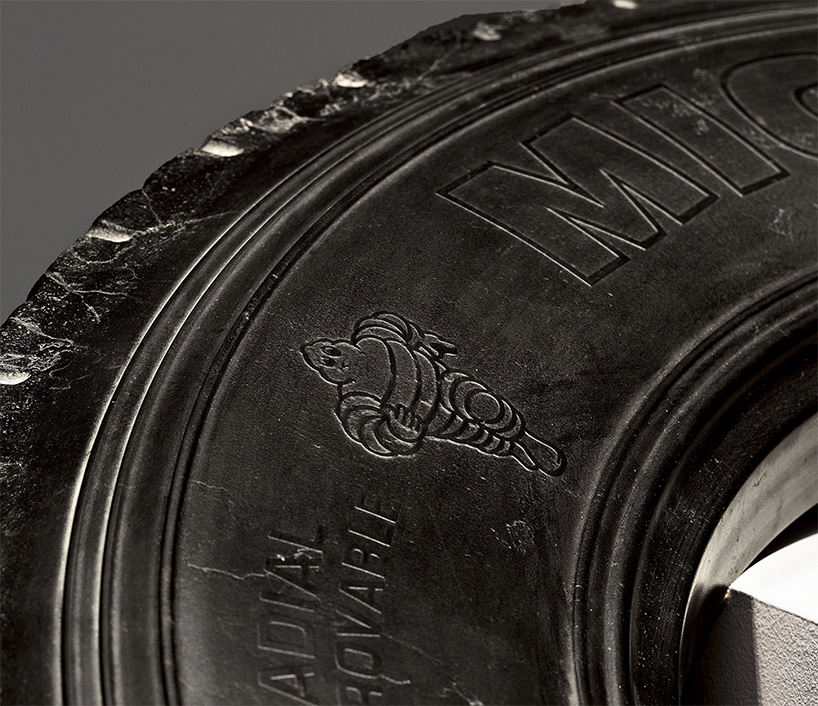 a michelin tire made of marble by fabio viale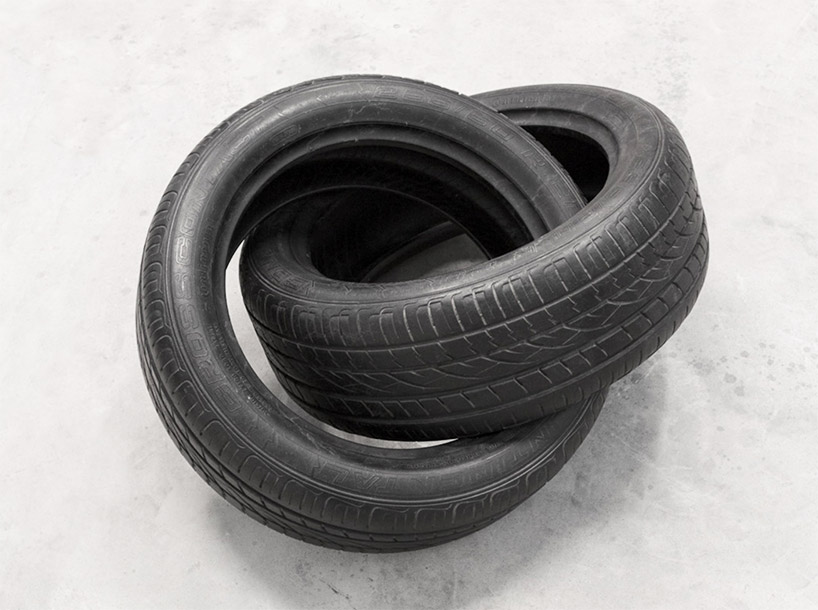 two large truck wheels surreally intertwined with each other 'infinito', by fabio viale, 2017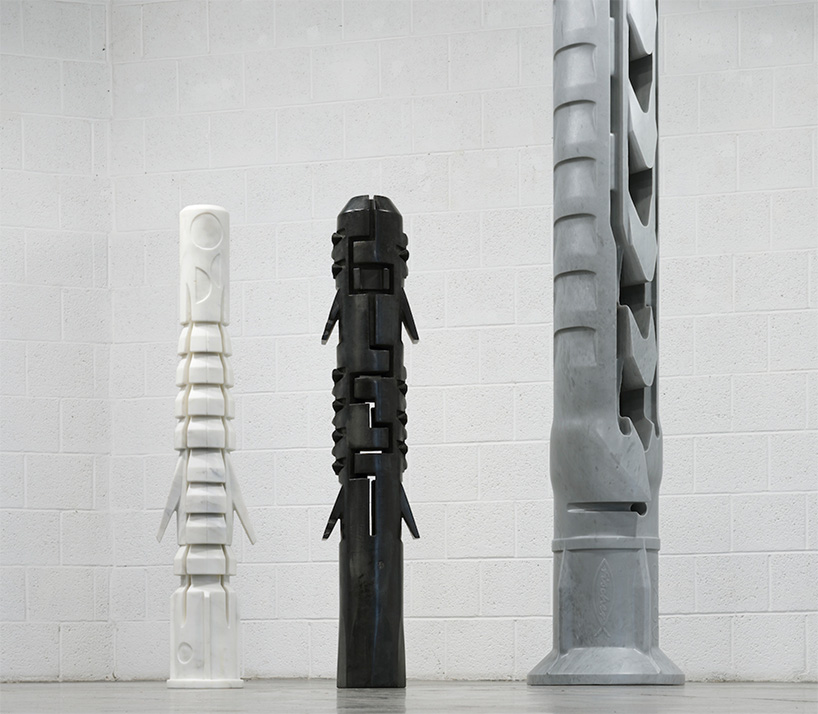 'anchor' / ordinary items, in this case nylon fischer gussets, become marble sculptures
—
about fabio viale
italian artist fabio viale is undeniably an excellent marble sculptor.
born in cuneo in 1975, he hooked his life to marble at the age of 16, when he attended art school (the academy of fine arts in turin) and discoverd his passion for the material. he spent summers close to craftsmen to learn the secrets of the trade.
in adolescence he quickly gained fame in the craft sector and among some antique dealers. initially he produced architectural design components and statues for the monumental cemetery of milan, before starting an independent career as contemporary sculptor. the first few years fabio viale worked alone, now with some collaborators (mainly for the roughing phase).
his works arrived from italy to new york and russia. in 2013 he made his debut at sperone westwater in NY. a year later he won the cairo prize, the most important recognition for contemporary art in italy for having created the first fully functioning and floating marble boat. in 2015 he began a collaboration with the poggiali gallery in florence, which in 2016 led to an exhibition, for the first time in history, of two sculptures of contemporary art in one of the most famous churches in the world: the basilica of san lorenzo in florence.