fishermen's wharf pavilion by MADAM architecture will occupy a lakeside dune in china
MADAM and HEXIA architects present the 'fishermen's wharf pavilion' as part of a new hospitality complex outside the city of jiaxing, china, 'ginkgo swan lake.' to be integrated into the natural surroundings, the ongoing project comprises eleven pavilions, each carefully designed by different international offices. with three of these pavilions designed by MADAM, the complex forms a unique and diverse ensemble of landmarks scattered around a lake full of wildlife. several of these pavilions house subsidiary hotel programming while others offer visitors points of engagement with the natural landscape.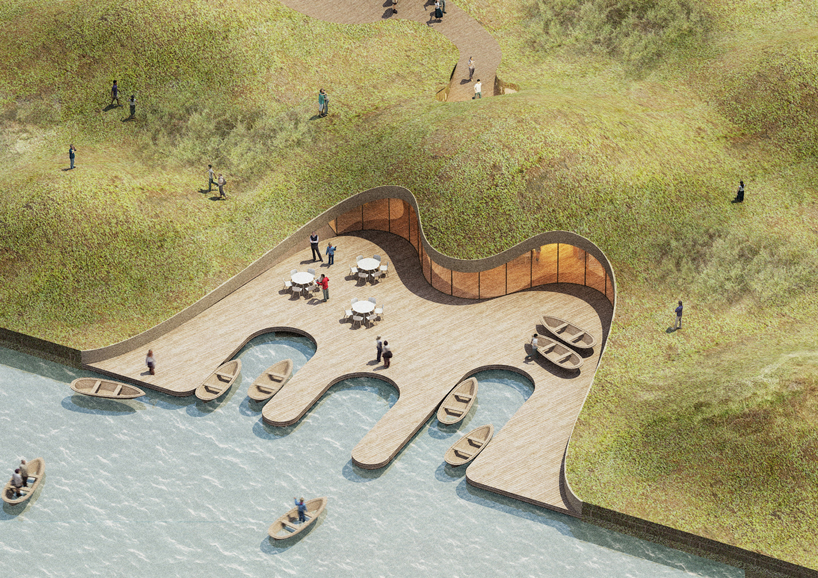 images courtesy of MADAM
based in madrid and amsterdam, MADAM sensitively designs its fishermen's wharf beneath the lakeside dunes as a landform pavilion within the ongoing complex, ginkgo swan lake. the pavilion is designed together with china-based HEXIA architects to be as hidden as possible within the rolling topography. programmed as a small boathouse and café, the space is situated on an island along the east shore of the lake, integrated within a natural area rich in wildlife. the landscape of dunes with its low vegetation hosts a wide range of nesting birds. the space offers visitors fishing and rowing boats to rent, introducing the opportunity to fully enjoy the lake, go fishing or visit other pavilions along the lake shore.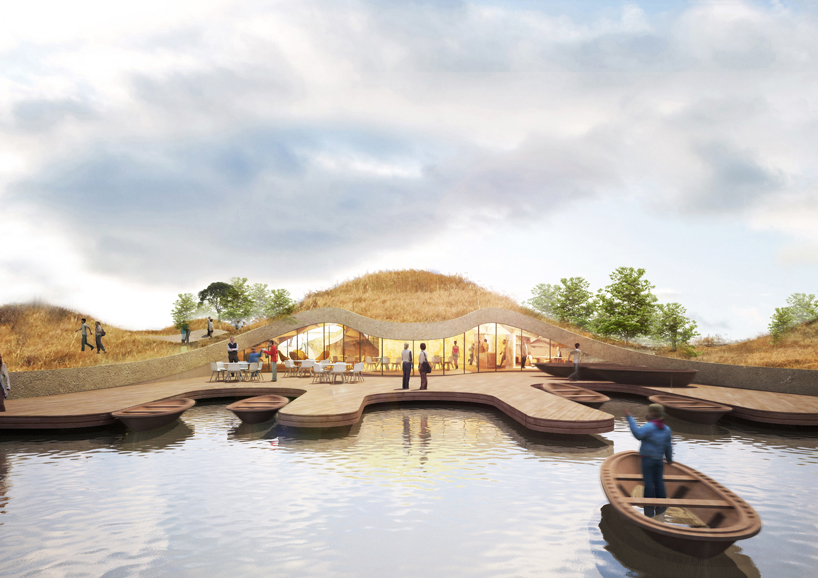 MADAM and HEXIA's fishermen's wharf comprises two land-art cutouts which subtly allow access through the landform pavilion. the first opens discreetly outward toward the main access to the island. the design team seeks to suggest a sort of burrow hole that does not distract the visitor from the natural beauty of the site. the other opens the pavilion more broadly to face the lake. a soft, curving cutout extends into the water, discretely subtracting finger-shaped docks out of the island, which help visitors to hop on and off their boats.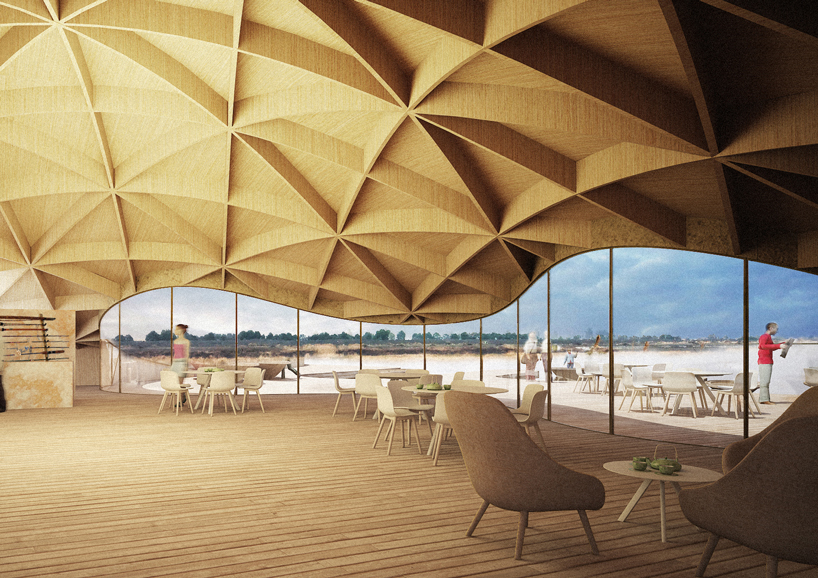 project info:
project title: fishermen's wharf pavilion at ginkgo swan lake
architecture: MADAM, HEXIA architects
location: jiaxing, china
program: boathouse and cafe
status: under construction