gad · line+ studio conceives jiunvfeng study on mount tai as a 'suspended cloud'
conceived as a 'suspended cloud', this white pavilion in china's shandong province serves as a visitor center that offers sweeping views across the mountainous landscape. designed by gad · line+ studio, the structure is located adjacent to the shenlong canyon, with mount tai, one of china's five 'sacred mountains', to the east. the building itself comprises three main parts: a white membrane canopy, transparent floor to ceiling glazing, and a thick stone base. the pavilion was constructed in its entirety in just five months.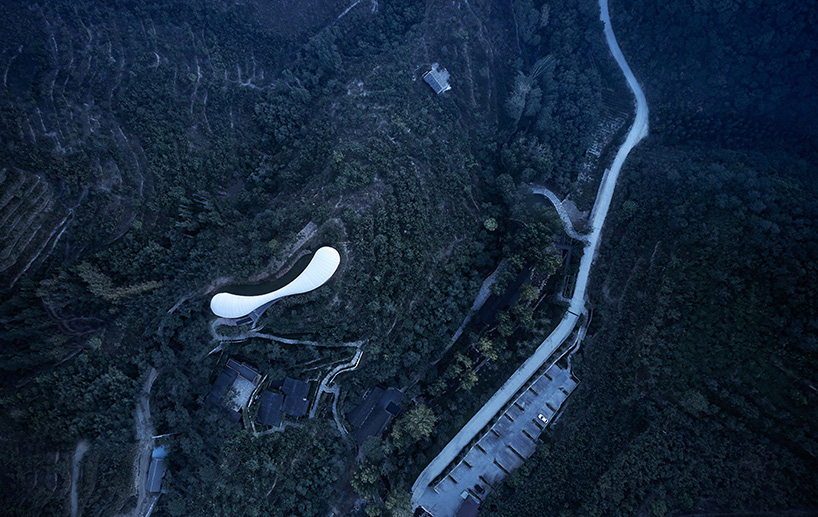 image © zystudio
contrasting the hard and unforgiving landscape, gad · line+ studio designed the pavilion — referred as 'jiunvfeng study on mount tai' — to be as light and transparent as possible. "less is more' in the architectural philosophy of western modernism and the minimalism pursued by contemporary japanese architects has actually been embodied as early as thousands of years ago in china,' says the design team. 'in the ancient chinese idea, architecture can even get rid of any medium and reach the extreme lightness without its existence.'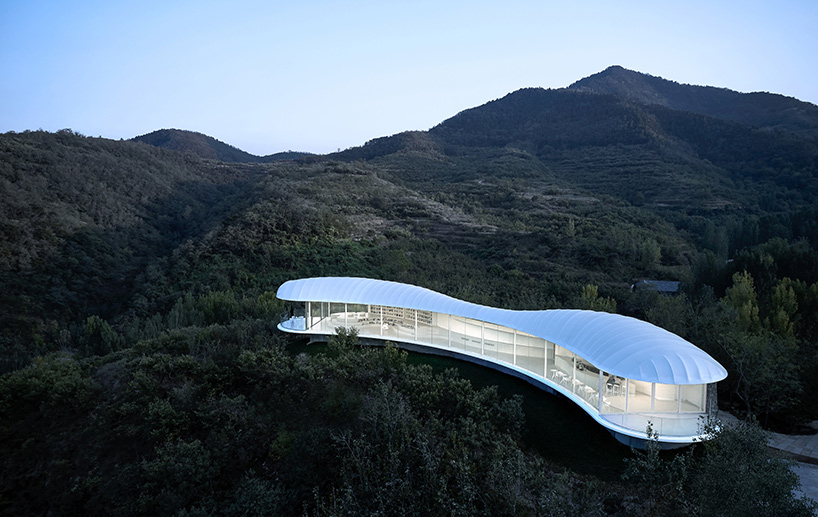 image © zystudio
visitors enter the pavilion through an opening in the stone walls, before encountering a single elongated room flanked by two outdoor balconies. in addition to the study, which contains books and a range of seating areas, the building also includes a bar and a restroom. floor to ceiling windows present sweeping views towards the mountains, giving guests the illusion of being perched high in the treetops. meanwhile, from a distance, the white structure appears to float gently above the landscape.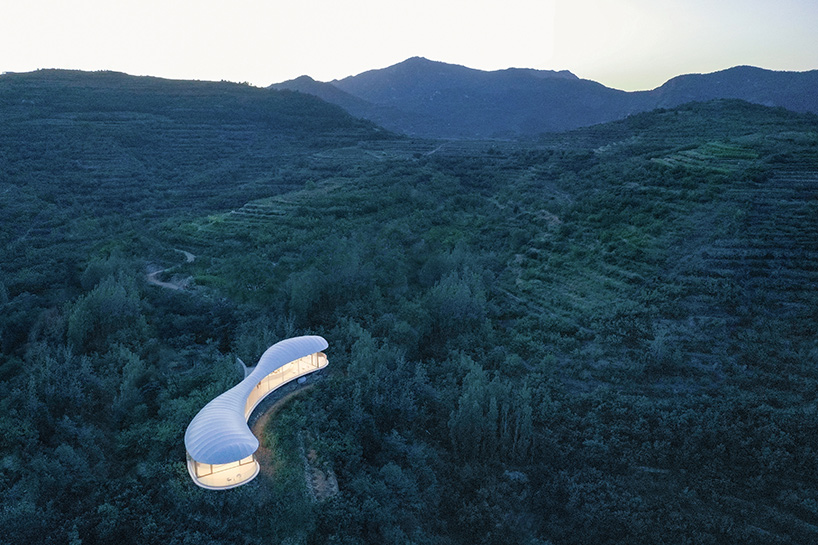 image © jin xiaowen
'when morning light slightly illuminates, the transparent glass body is hidden in the forest,' explain the architects. 'when night falls, the 'cloud' floats on the mountain with a faint light. visitors inside are totally immersed in a relaxed space atmosphere to read and meditate. the architectural space created by the environment exists in the natural landscape of dynamic evolution, and we ascribe it to nature in the simplest and the most direct way, so as to live with nature in harmony.'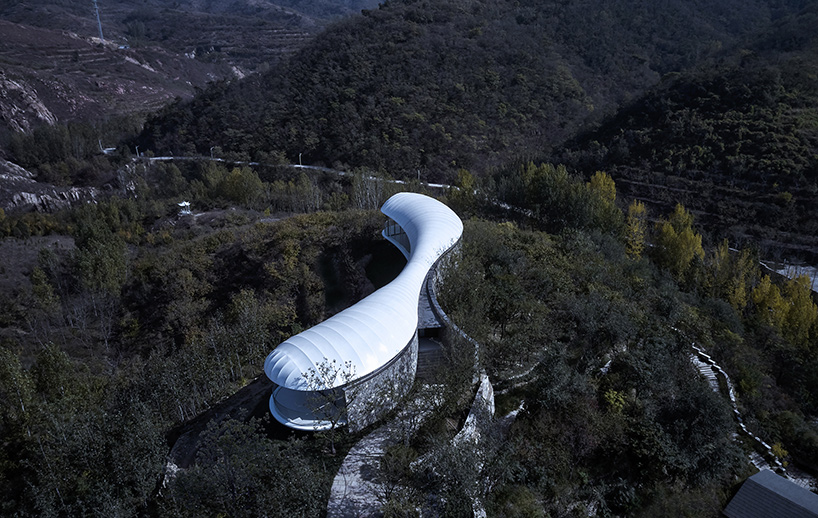 image © zystudio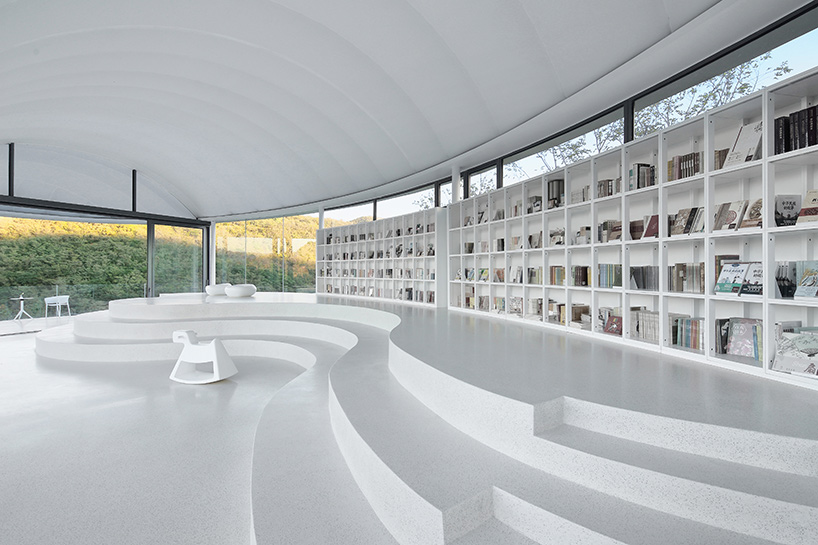 image © jin xiaowen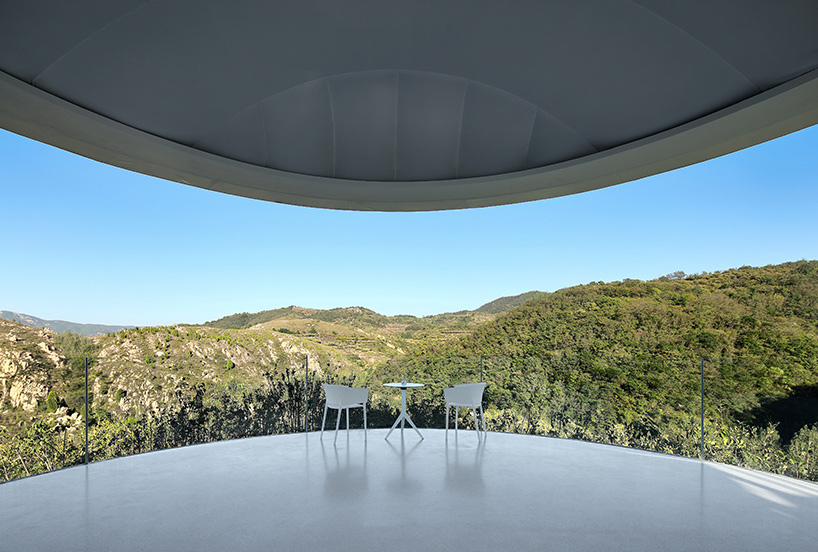 image © jin xiaowen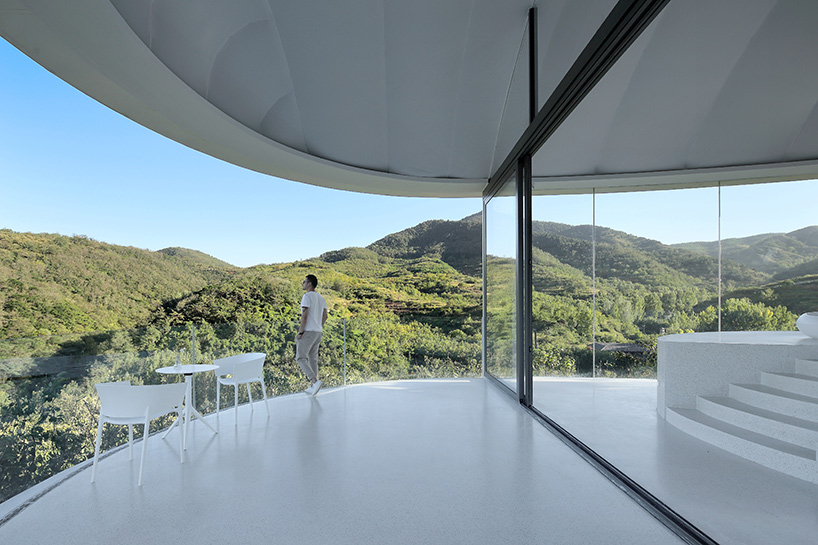 image © jin xiaowen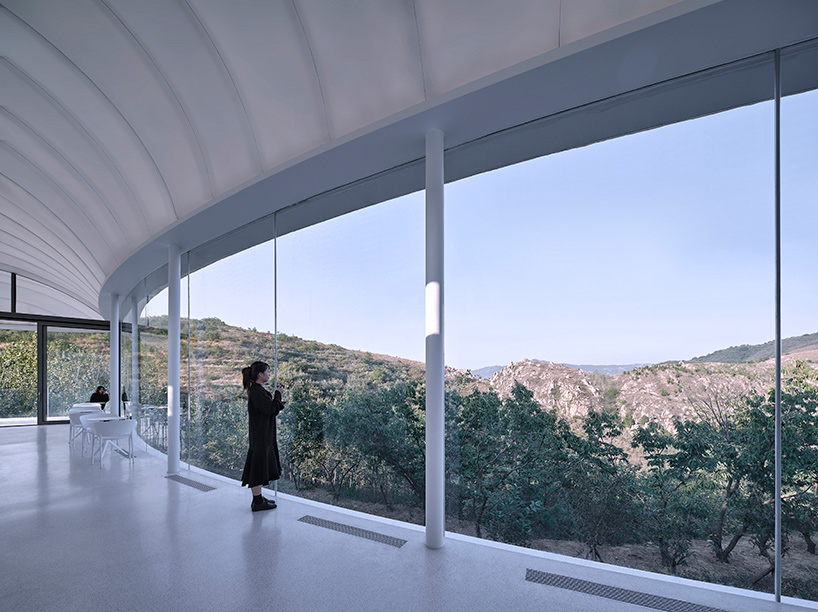 image © zystudio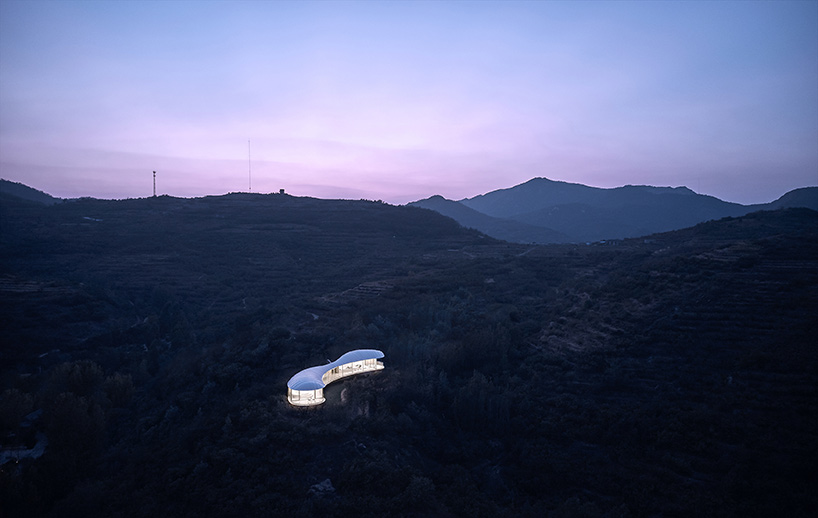 image © zystudio
project info:
name: jiunvfeng study on mount tai
location: dongximen village, daiyue district, tai'an, shandong, china
design company:gad · line + studio (architecture, interior, landscape)
chief architect/project principal: menɡ fanhao
design team —
architecture: zhu min, zhang erjia, xu hao
interior: jin xin, hu jinwei, zhou xinyi
landscape: li shangyang, jin jianbo, chi xiaomei
floor area: 287.3 sqm
design period: 2019.04-2019.06
construction period: 2019.05-2019.09
client: lushang pusu (tai'an) cultural tourism development co., ltd.
structure coordination and construction: hangzhou zhongpu building technology co., ltd.
structure: membrane structure roof and steel structure
materials: membrane, steel, rubble
photography: zystudio, jin xiaowen, pan bing