karamuk kuo creates internal landscape for sports science complex at university of lausanne
designed by karamuk kuo architects, this building at the university of lausanne in switzerland unites four separate entities relating to sports science. overlooking lake geneva, the compact nature of the cube-like structure allows for two generous outdoor spaces: an esplanade at the main entrance and an expansive terrace. the project contains individual and shared offices, meeting rooms, physical testing labs, classrooms, and larger common spaces such as an auditorium and cafeteria.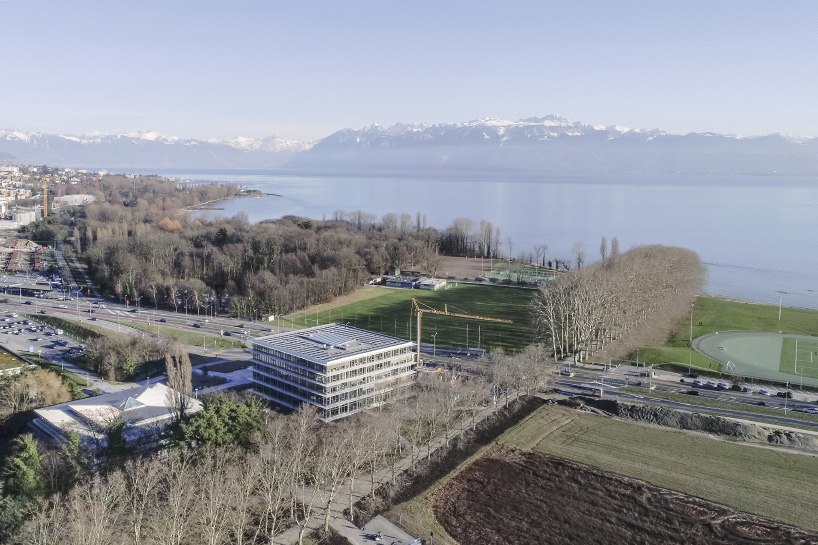 image © laurian ghinitoiu (also main image)
the brief for the project called for a building that would unite the four different entities under one roof: the university of lausanne's sports sciences institute, the international academy for the science and technology of sports, the international federation of university sports, and ThinkSport — an organization that brings together different sectors involved with sport and physical activity.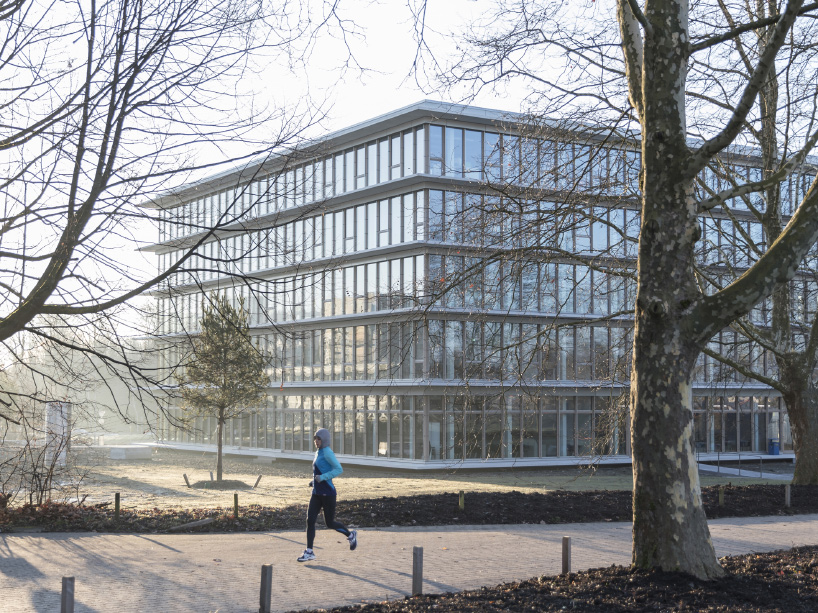 image © laurian ghinitoiu
the challenge for karamuk kuo was to bring these organizations, each with their own set of needs, into a single building with a collective identity. working with a tight budget, the architects designed the project as two interdependent systems: a hyper-rational ring of workspaces, flexible and lightweight; and a porous mass of service and collective spaces that serves as the structural bracing.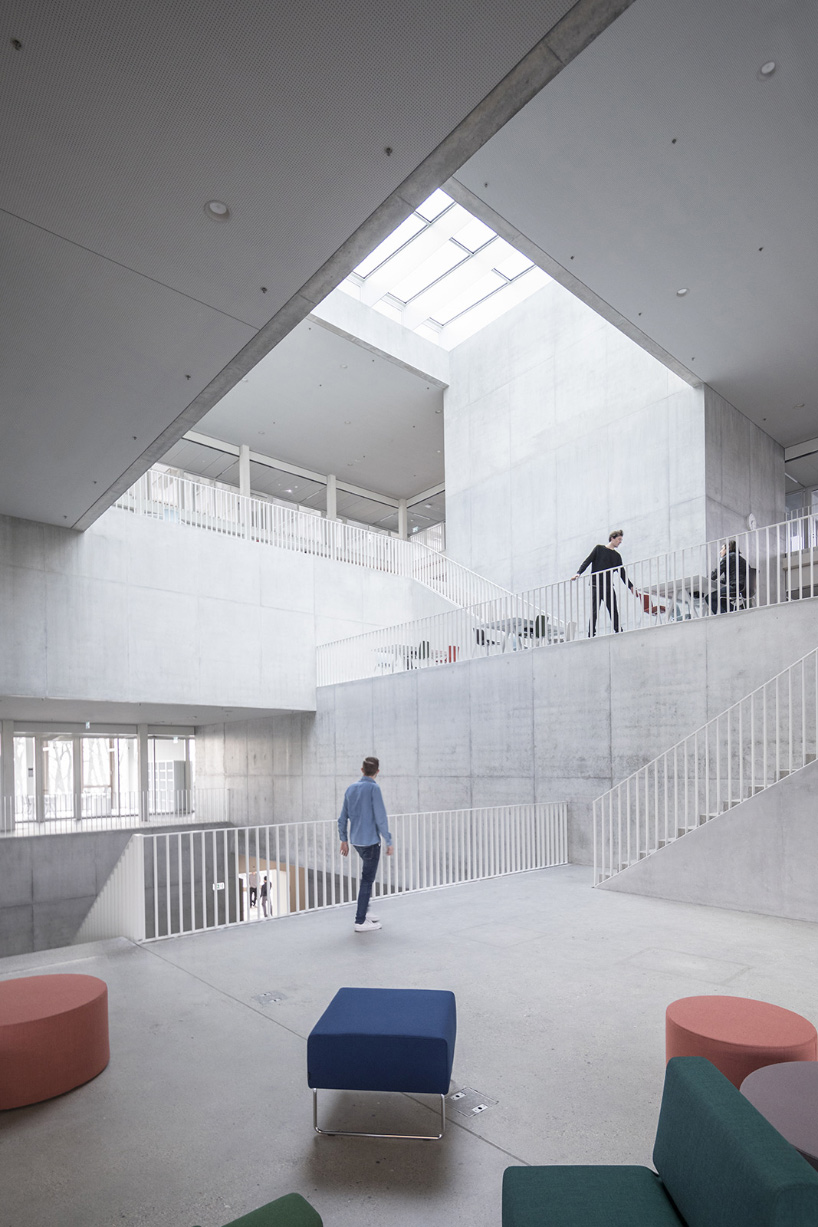 image © laurian ghinitoiu
based on a modular façade, the outer ring is conceived as a conventional yet flexible grid that contrasts the private offices and classrooms. meanwhile, the core of the building — conceived as a dynamic 'internal landscape' — contains all spaces that don't require daylight to function. this includes physical testing labs as well as services such as elevators, stairs, and bathrooms. 'as you make your way up the space begins to open in different directions, with views to different floors, and also to the outside,' explain the architects.
read designboom's in-depth interview with jeannette kuo, founding partner of karamuk kuo architects, here.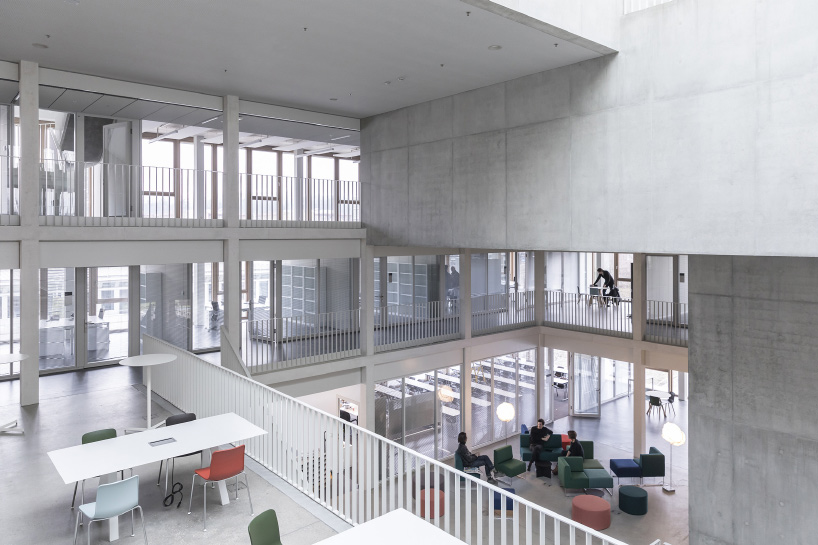 image © laurian ghinitoiu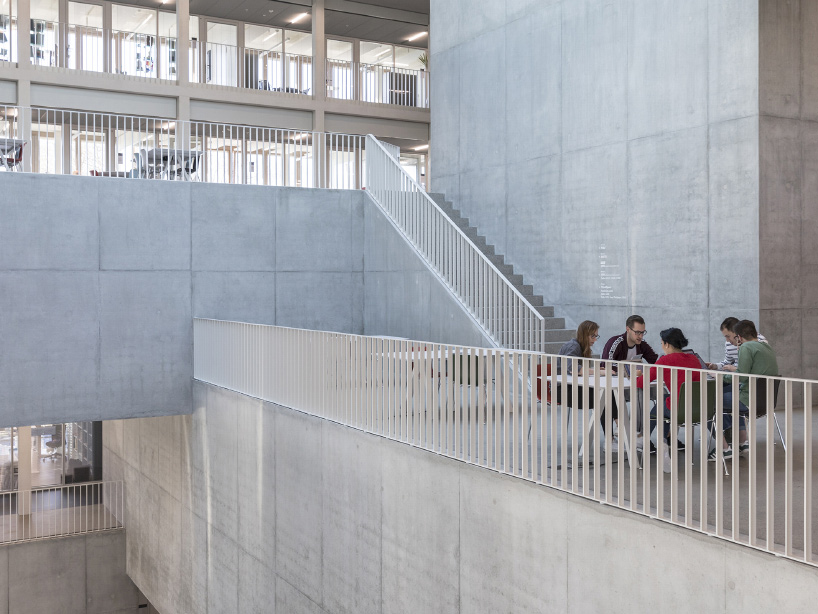 image © laurian ghinitoiu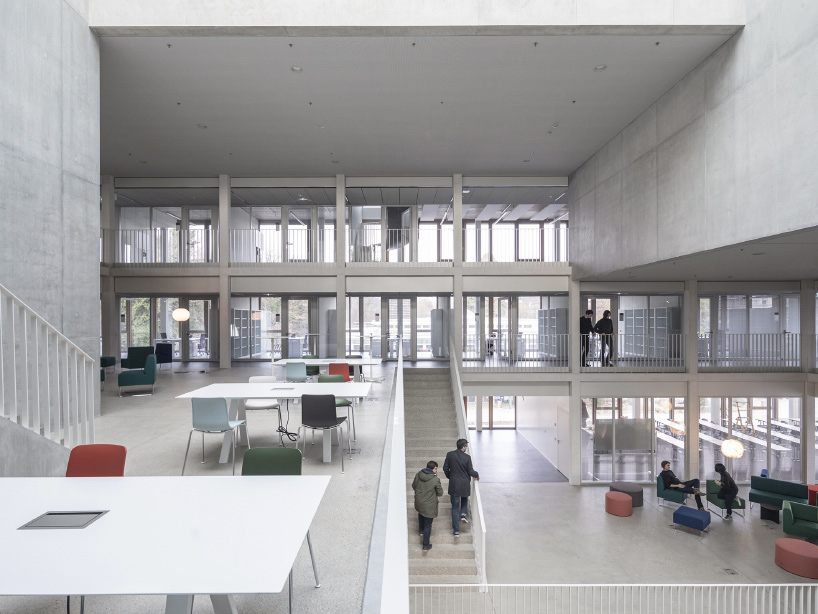 image © laurian ghinitoiu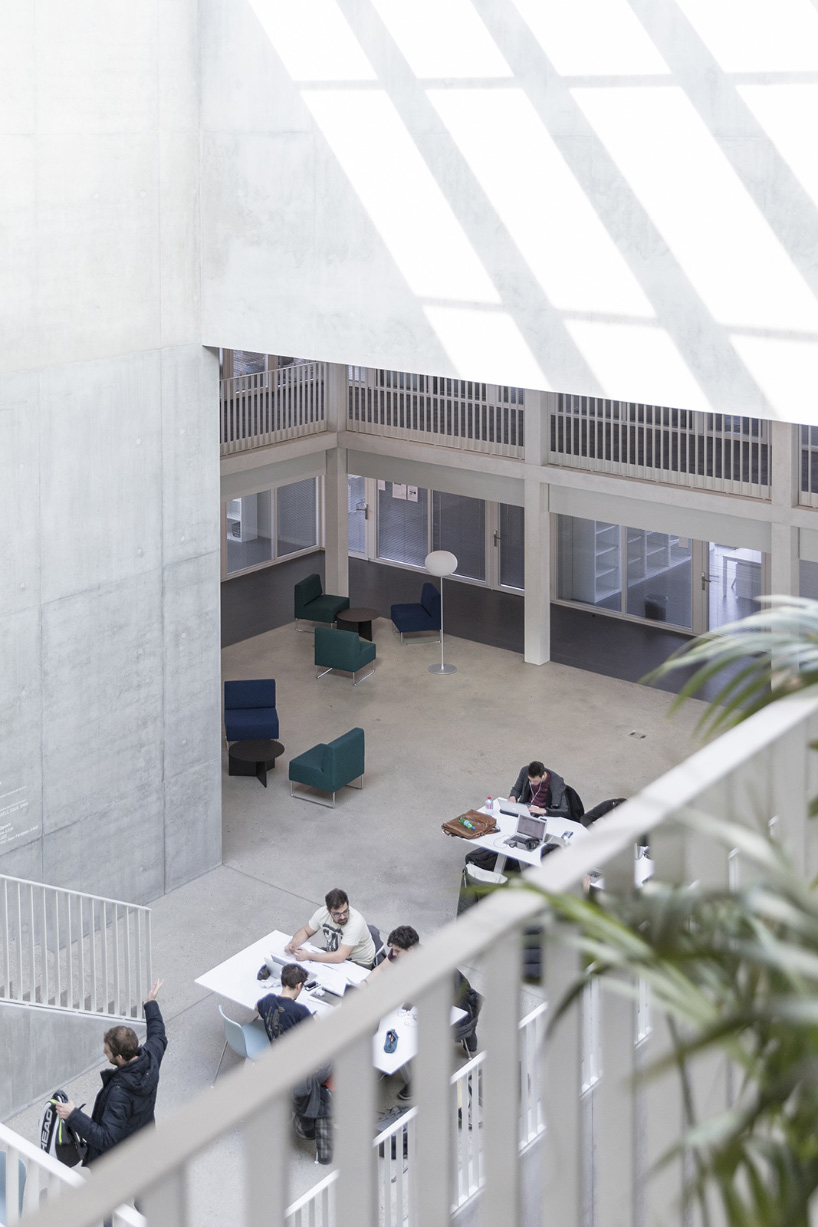 image © laurian ghinitoiu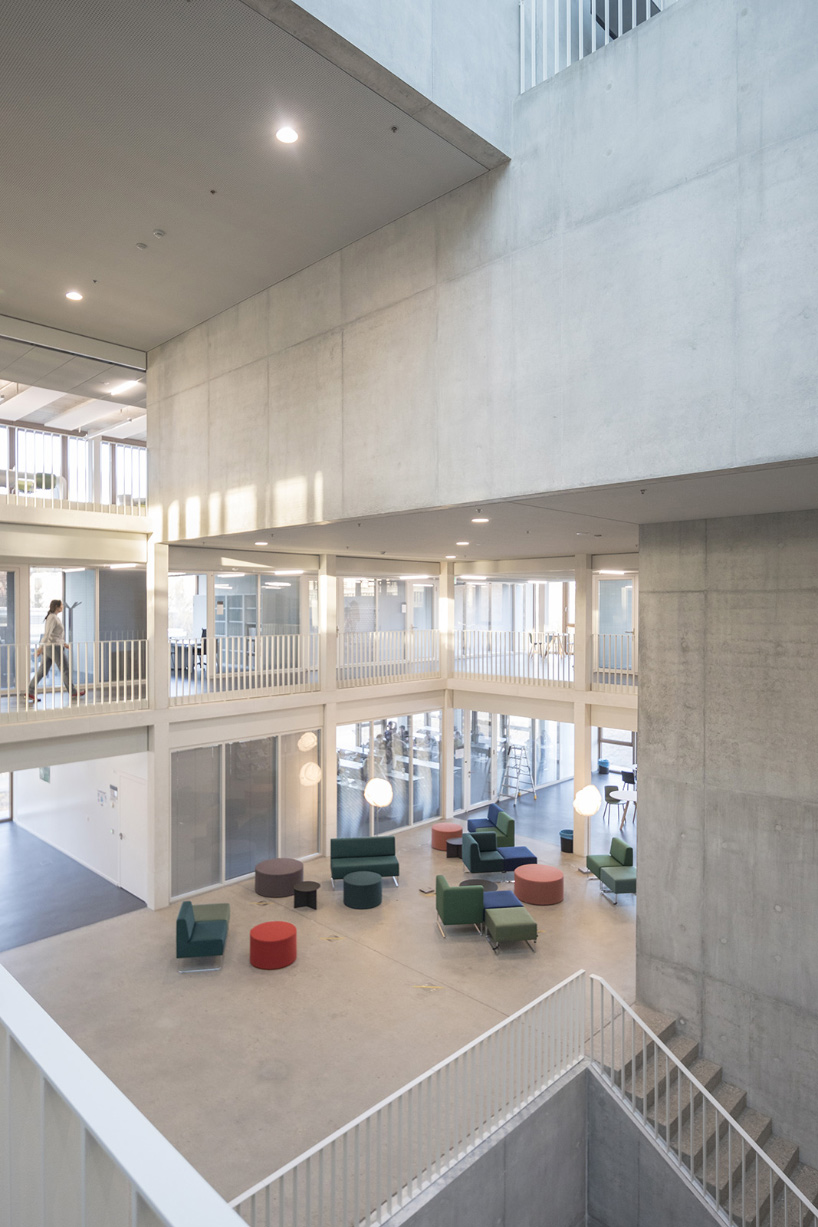 image © laurian ghinitoiu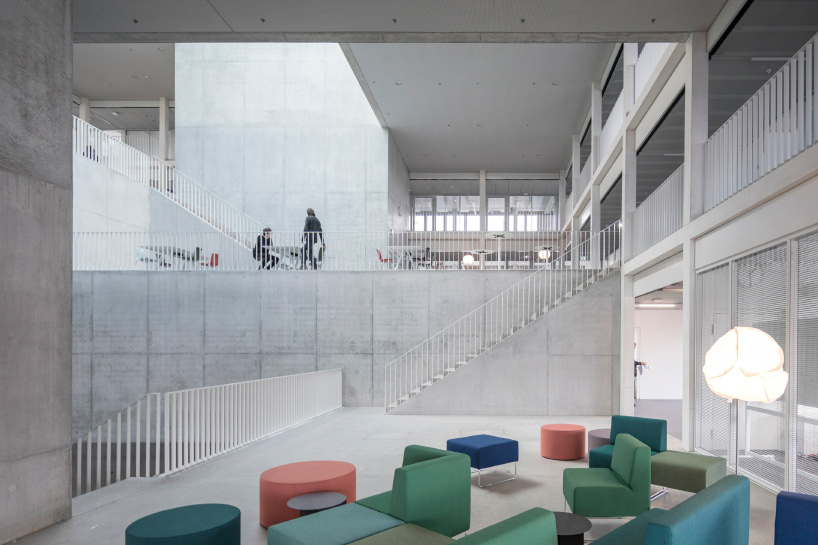 image © laurian ghinitoiu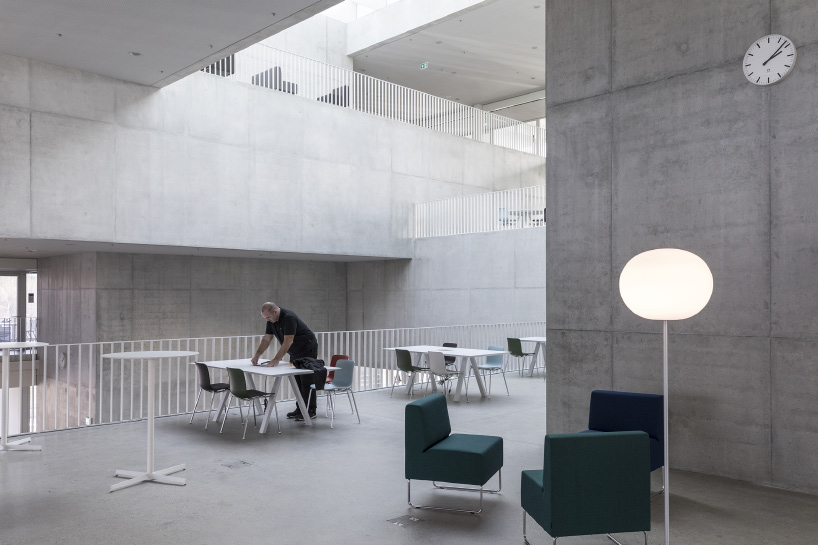 image © laurian ghinitoiu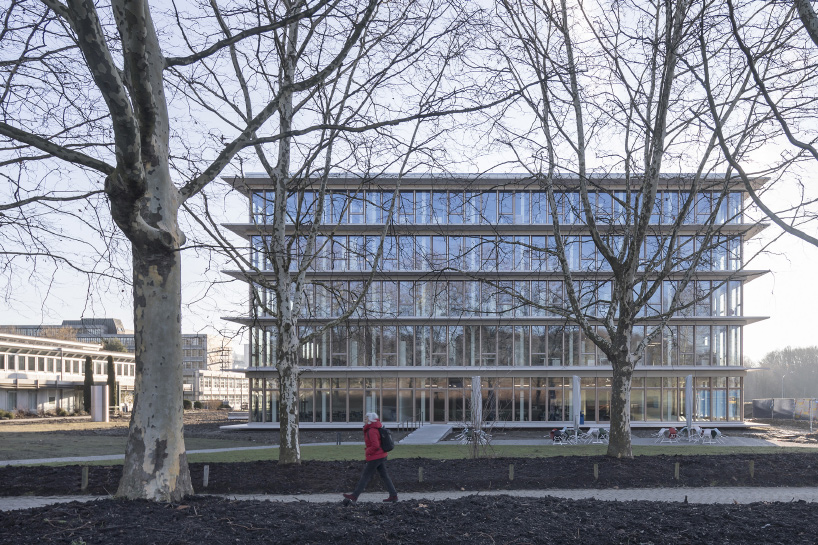 image © laurian ghinitoiu
project info:
name: international sports sciences institute
architect: karamuk kuo architects
procurement: open competition 2013 – 1st prize
location: university of lausanne, campus dorigny, switzerland
program: cellular and open offices, labs, classrooms, auditorium, café
status: completed in 2018
area: 6,757 sqm / 72,732 sqf
budget: CHF 28.5 million (including all fees and FFE)
photography: laurian ghinitoiu and karamuk kuo architects