karamuk kuo extends weiden secondary school in northeastern switzerland
in response to the region's rising population, this school campus in northeastern switzerland has been extended with the addition of 24 new classrooms and a large sports hall. the new building is designed by karamuk kuo architects who won a competition to complete the project in 2013. located in the town of rapperswil-jona, the campus exists within a park-like setting that offers views towards the alps. the challenge for the architects was how to integrate a building three times the size of the original, while preserving the bucolic qualities and atmosphere of the outdoor space.

image © mikael olsson (also main image)
by keeping the new building as compact as possible, and utilizing subterranean space, the school matches the size and scale of the neighboring structures.'we decided that the solution was to create a singular volume that would stack two floors of classrooms in timber construction on top of the sports hall,' explains jeannette kuo, founding partner of karamuk kuo architects, speaking at the engadin art talks.

image © mikael olsson
upon entering the building, students, staff, and visitors are greeted with views into the sunken sports hall.'on the ground floor, the lobby, the teachers rooms, and the conference hall are wrapped tightly around the gym, creating this immediate adjacency and visual exchange,' kuo continues. 'the gym is something usually hidden, or sometimes even put into an entirely separate building. now, all of a sudden, it becomes an active, consensual part of the school.'

image © mikael olsson
instead of a typical corridor system, the classrooms on the upper two floors are connected through large central halls punctuated by four courtyards that bring daylight into the space.'spatially, the courtyards act like rooms, inverting the relationship between inside and outside, where the outside actually becomes an intimate, almost sound insulated room within this larger or active field,' the architect explains. these halls are typically used as study spaces, but they are also capable of being used for a wide range of school events.
read designboom's in-depth interview with jeannette kuo, founding partner of karamuk kuo architects, here.

image © mikael olsson

image © mikael olsson

image © mikael olsson

image © mikael olsson

image © mikael olsson

image © mikael olsson

image © mikael olsson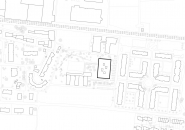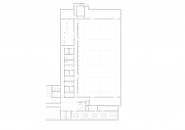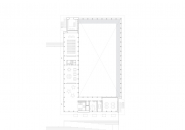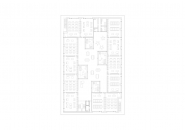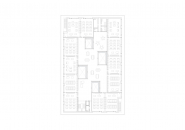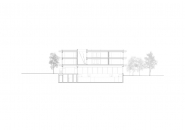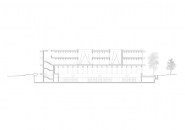 site plan
image © karamuk kuo architects

floor plan / level -1
image © karamuk kuo architects

floor plan / level 0
image © karamuk kuo architects

floor plan / level 0
image © karamuk kuo architects

floor plan / level +2
image © karamuk kuo architects

section
image © karamuk kuo architects

section
image © karamuk kuo architects
project info:
name: weiden secondary school and gym
architect: karamuk kuo architects
procurement: selective competition 2013 – 1st prize
location: rapperswil-jona, canton st. gallen, switzerland
program: 24 classrooms, gym, assembly hall, and teacher's lounge
status: completed in 2017
area: 6,285 sqm
budget: CHF 27.5 million
photography: mikael olsson — website | instagram