liang architecture inserts a light-filled atrium into apartment renovation in china
in pujiang, china, liang architecture studio has completed the renovation of a large semi-detached villa. redesigned to enhance openness and natural light, 'a desired home' aims to accommodate the personality of the residents in an intimate and serene home. 
living room, image © wang ting
when approaching the new interior design, liang architecture studio's main focus was to integrate natural light throughout the entire space of the existing residence. this is achieved with the insertion of a central atrium space, which punctures through the four floor levels. the void element allows sunlight to filter down and into the interiors. moreover, the glass roof of the atrium is covered by a layer of perforated aluminum panels, creating a beautiful dappled light effect and playful spatial experience. 
living room, image © wang ting
in addition to the new atrium, the existing home has also been deconstructed to open up the space. the floor slabs and rooftop along the central axis of the foyer have been dismantled, which previously divided the building into two parts: the front and rear blocks. a structural beam above the foyer has been retained in a nod to the old construction. the box beside this beam features a mirrored surface, which reflects it and blurs the line between the old and new architecture. 
stairs and void space, image © wang ting
parts of the ceiling above the living room and dining area have been cut in order to connect the public spaces as much as possible. in addition, the design team has added some windows to bring in more natural light and enhance connection between indoor and outdoor. the kitchen, dining room and other public areas are designed to be awash with morning light. these social areas are also redesigned to be open, helping to facilitate physical and spiritual interaction between family members.
stairs and void space, image © ye song
overall, the spatial layout is based on rational thinking, which takes into account functionality, the family's living habits, and interaction among people, space and daylight. 'the design languages are relatively simplistic. the space is serene, fun, durable and sometimes surprising, and it offers a holistic experience, which dialogues with the mind.' – liang architecture studio.
foyer, image © wang ting
foyer, image © wang ting
living room, image © ye song
living room, image © ye song
living room, image © ye song
living room, image © ye song
stairs and void space, image © wang ting
void space, image © wang ting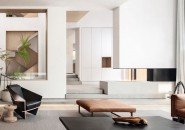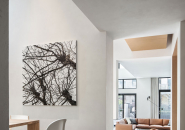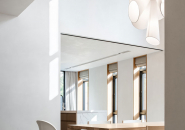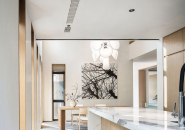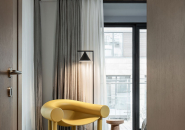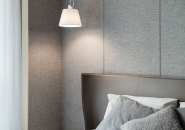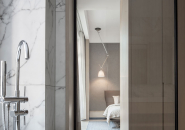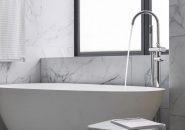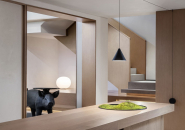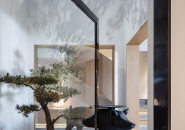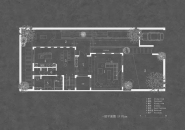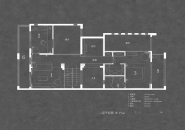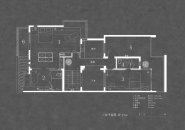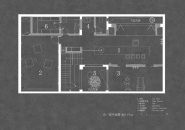 living room, image © wang ting

dining room, image © wang ting

dining room, image © wang ting

dining room, image © wang ting

bedroom, image © wang ting

bedroom, image © wang ting

bedroom, image © wang ting

bathroom, image © ye song

basement, image © wang ting

basement, image © wang ting

external view, image © wang ting

first floor plan

second floor plan

third floor plan

basement floor plan
project info:
project name: a desired home
interior design: liang architecture studio
design director: xu liang
design team: wang xinyan, zhou zesi, cheng pingping, sun yongfang
lighting design: yaank
location: pujiang county, jinhua city, zhejiang province, china
type: semi-detached villa
area: 5382 ft (500 m2)
completion date: december 2019
photography: wang ting, ye song
main materials: tile (florina), woodwork (welbom), lighting fixture (keesoo), paint