paola antonelli + alice rawsthorn collaborate on 'design emergency' project
MoMA curator paola antonelli and design critic alice rawsthorn are collaborating on design emergency, a new project that explores design's role and impact on the COVID-19 crisis and its aftermath. since the coronavirus outbreak began, designers and their collaborators have come up with ingenious solutions to help protect the public from the pandemic, improve treatment facilities and methods, and prepare us for the future (for examples, see designboom's creative emergency responses). antonelli and rawsthorn  plan to publish a book on design emergency, and are beginning the project with a series of weekly instagram live talks. the first talk took place yesterday, may 7, and saw paola antonelli in conversation with michael murphy, founder of MASS design group.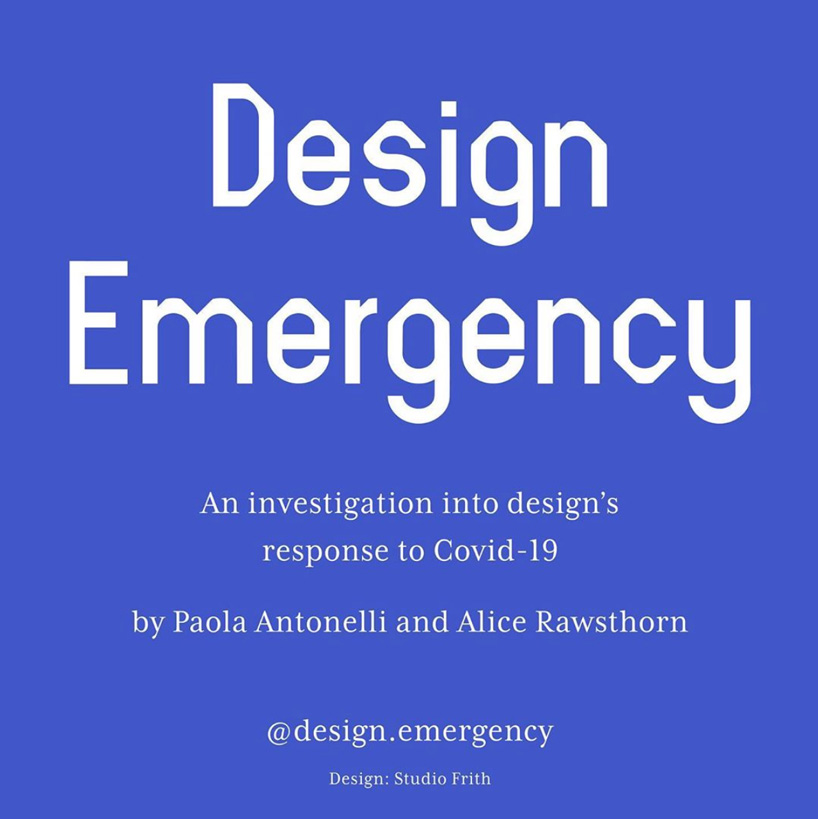 image courtesy of design emergency, designed by studio frith
'design is one of our most powerful tools in the COVID-19 crisis,' reads the statement by design emergency, which recently launched on instagram. 'the ingenuity, resourcefulness, and generosity of designers and their collaborators worldwide has produced innovations that are helping to protect us from the pandemic, to improve its treatment and to prepare for the radical changes it will introduce to our lives in the future.' together, rawsthorn and antonelli plan to explore the design community's reaction to coronavirus, investigate its effectiveness when it comes to addressing urgent problems, and demonstrate its power to tackle the complex social, political, economic and ecological challenges of this intensely turbulent time.