shikhara house by wallmakers is a remote hilltop retreat in southern india
located at the top of a hilltop in southern india, this house by wallmakers is titled 'shikhara' — a word that translates literally as 'mountain peak'. the residence has been designed for a client who loves to travel and wanted his own himalayan-style retreat. in order to shield the west-facing property from the region's hot sun, the architects designed a large wall to protect occupants from harsh heat and direct sunlight.

all images by jino sam, sidharthan, chirantan khastgir, akash sharma, and sagar kudtarkar
to build the structure, wallmakers sourced materials from the land itself. however, the terrain was filled with rocks and pebbles meaning that it was deemed unsuitable for making mud bricks. instead, the team used the land to build a 'shuttered debris wall' — a technique patented by the architects. this construction involved mixing cement, soil, and waste materials of various sizes (ranging between 10-70mm) to give a strong wall with 5.2MPa compressive strength.
since the solid wall had relatively few and small openings, a lack of cross ventilation posed a new problem. in response, the architects used perforated aluminum sheets to allow light and air to pass through. a rhythmic undulating pattern means that this façade doubles as a staircase, while ensuring security.
'the overall experience of living in this residence can indeed be compared to that of being in the mountains,' say the architects.'brimming with nature but also formidable, welcoming, and reclusive — above all a quiet viewpoint to view the countryside from.'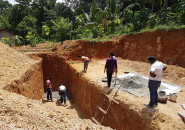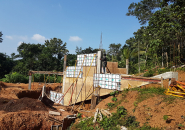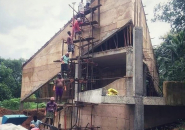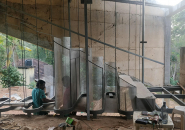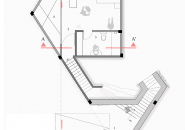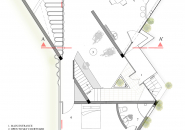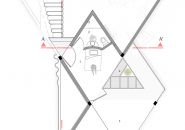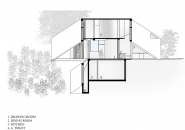 rainwater pit, soil used for shuttered debris wall

shuttered debris wall in progress

roof slab concreting

staircase in progress

floor plan / level -1
image courtesy of wallmakers

floor plan / level 0
image courtesy of wallmakers

floor plan / level +1
image courtesy of wallmakers

section
image courtesy of wallmakers
project info:
name: shikhara
location: pothencode, trivandrum, kerala, india
gross built area: 177.29 sqm / 1,908 sqf
completion year: 2019
architect: wallmakers
lead architects: ar. vinu daniel
design team: ar. J.M.srivarshini, ar. gayatri maithani, ar. sagar kudtarkar, ar. pushkar sharma, ar. swathi, ar. oshin varughese
interns: vineeth AC, apoorva goutam, harshita g tophakhane, smit zalavadia, nihal gafoor, ayush nair
client: mr. harikumar karunakaran
engineering: adcons infrastructure pvt ltd
landscape: vinu daniel and team
fabrication team: kunjumon james and team -j.k steels
carpenters: sarath prasad and team
masons: deepu and team


photography: jino sam, sidharthan, chirantan khastgir, akash sharma, and sagar kudtarkar