sidewalk labs scraps toronto neighborhood with buildings by snøhetta + heatherwick studio
sidewalk labs, an affiliate of google, has announced that it has dropped plans to build a 'smart-city' in toronto, canada. named 'quayside', the project was to comprise 10 buildings across five sites that combine residential and commercial uses. architecture firms snøhetta and heatherwick studio had already been tapped to design buildings as part of the development. the neighborhood was aiming to house approximately 4,500 residents, while creating roughly 3,900 jobs. four hectares of public realm was also to be included as part of the ambitious scheme.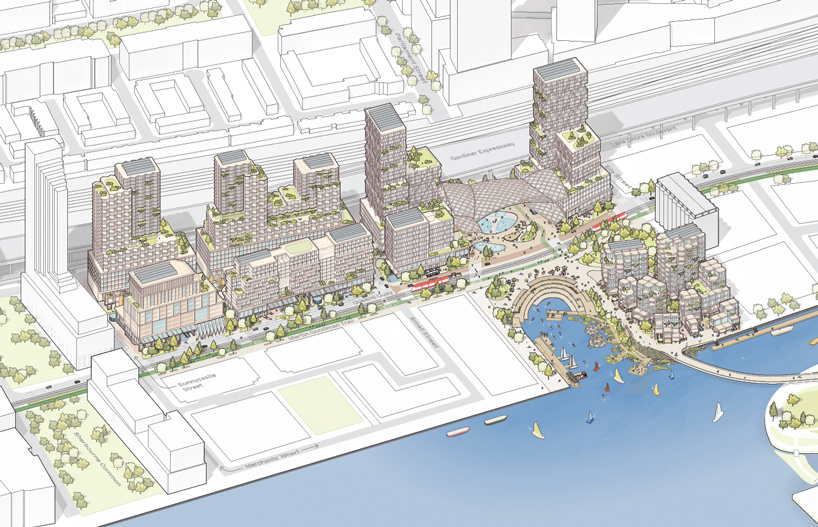 quayside masterplan | image courtesy of sidewalk labs
however, dan doctoroff, the CEO of sidewalk labs, says that the effect that the COVID-19 pandemic has had on the economy has made the project impossible to realize. 'as unprecedented economic uncertainty has set in around the world and in the toronto real estate market, it has become too difficult to make the 12-acre project financially viable without sacrificing core parts of the plan we had developed together with waterfront toronto to build a truly inclusive, sustainable community,' doctoroff explains in a blog post. 'and so, after a great deal of deliberation, we concluded that it no longer made sense to proceed with the quayside project, and let waterfront toronto know yesterday.'

heatherwick studio was tapped to design a building for site 5
image by picture plane for heatherwick studio (also main image)
dan doctoroff says that, even though the 'quayside' project has been shut down, the current health emergency has reaffirmed sidewalk labs' commitment to developing the cities future.'I believe that the ideas we have developed over the last two-and-a-half years will represent a meaningful contribution to the work of tackling big urban problems, particularly in the areas of affordability and sustainability,' states doctoroff. 'this is a vital societal endeavor, and sidewalk labs will continue our work to contribute to it.' more detailed information about the 'quayside' development can be seen here.


snøhetta drew up plans for sites 3 and 4
image by snøhetta
moving forward, sidewalk labs will continue to address issues such as urban mobility, next-generation infrastructure, and community-based healthcare. the company has also invested in startups working on everything from robotic furniture to digital electricity. sidewalk labs is continuing to work internally on factory-made mass timber construction as a way to improve housing affordability and sustainability, a digital master-planning tool that can improve quality of life outcomes and project economics, and a new approach to all-electric neighborhoods.

see designboom's previous coverage of the project here
image by snøhetta
project info:
team: waterfront toronto and sidewalk labs
architects:snøhetta and heatherwick studio
location: toronto, canada
official website: sidewalk toronto