summary completes prefab collective housing building 'vale de cambra' in portugal
summary has completed its vale de cambra project (see previous coverage here), a 1000 sqm prefabricated collective housing building in portugal. the project comprises a ground floor level for the multi-services program connected with the surrounding public space and topped by six individual habitational units. these 45 sqm units make the entire upper level, while they are a continuation of summary's gomos modular systems (see previous coverage here), in which each unit leaves the factory completely ready.
all images © fernando guerra | FG+SG
video © building pictures
drawings courtesy of summary
summary developed vale de cambra with a series of boldly defined requirements from the beginning, which included a fast, cost effective construction that could be changeable over time. these prompted the portuguese studio to use prefabricated elements and leave parts of the project undefined, assuming the immediacy, flexibility and resources optimization as core themes. a continuation of summary's prototype, which was unveiled as part of the main exhibition of the venice architecture biennale 2016, the project showcases the benefits of the studio's prefab and modular building systems.
the two-story collective housing project is built mainly in precast concrete, which is directly exposed, without any additional finishing, thus reducing the resources, the manpower and the arts involved in the construction process and, consequently, reducing its environmental impact.'this approach has a direct effect in the acceleration of the building process: all its components are fully prepared in factory and quickly assembled in situ, performing at once as structure, insulation and cladding elements,' explains summary. 
vale de cambra comprises two levels: a ground floor level for the multi-services program, which is connected to the surrounding public space; and an upper level of six individual housing cabins of 45 sqm each. each program features an independent access due to the differences between them, which have been placed in different levels, taking advantage of the natural ground's slope.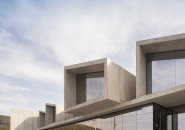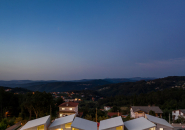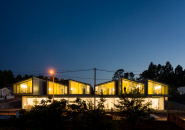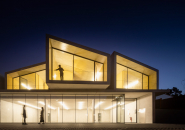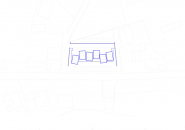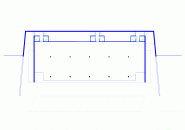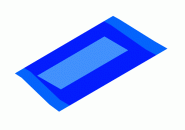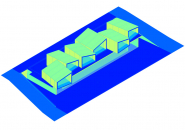 project info:
name: vale de cambra
architecture: summary
project leader: samuel gonçalves
team: samuel gonçalves, inês rodrigues, joão meira, gonçalo vaz de carvalho
engineering: FTS, technical solutions
prefabrication and assembly: farcimar, soluções em pré-fabricados de betão
main use: multi-services + housing
construction area: 998 m2
predominant material: reinforced concrete
location: vale de cambra, portugal