torafu architects renovates museum gallery with cedar logs as benches and tables in japan
torafu architects has renovated the green gallery of japan's first open-air museum, hakone open-air museum, with a grid arrangement of cedar logs that people can utilize as benches and tables to drink, relax and rest. chosen in response to the no-touch policy of the museum's artworks, cedar offers visitors the chance to get in touch with the material unconsciously. the grid arrangement of these logs, cut from the hakone mountain, and 360mm-square laminated lumbers keep consistency and uniformity in the thin-rectangle space, divided by a stairwell.
all images by kenta hasegawa
in log plaza ki to ki, torafu architects has renovated the green gallery of hakona open-air museum, which originally consisted of a cafe on the first floor, and a gallery on the second floor that lacked enough indoor rest space. for the renovation, it was required to transform the second floor into a space for both resting and exhibition displays. 
'in this museum, visitors cannot touch artwork exhibited outdoors,' explains torafu architects. 'in response, the unique and mountainous environmental-specific cedar logs are chosen as a material that visitors may wish to touch unconsciously.'
the logs are installed across like bridges, set grids in the space, and, amongst other uses, they are utilized as benches and tables, where the museum's visitors can eat, drink, relax and rest. there, an area with a rubber-chip mat allows people to take off their shoes, lean on the square lumbers, or use them as low tables. the floor is defined with simple rules which leave plentiful space that affords visitors the opportunity to actively find how to use it.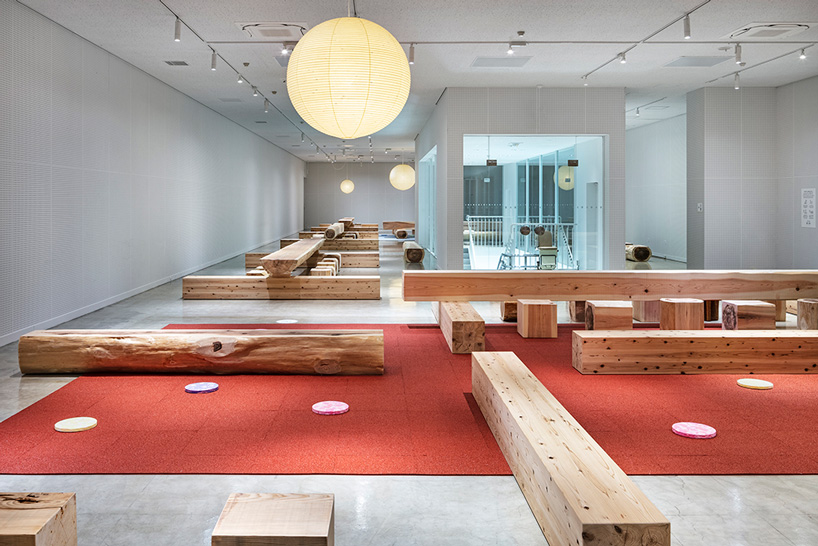 project info:
name: log plaza 'ki to ki'
architect: torafu architects
principle use: free space, gallery
client: hakona open-air museum
production: ishimaru, takeo
sign design: takaiyama
location: hakone, kanagawa prefecture, japan
site area: 506 m2