TW ryan architecture's 'three chimney house' echoes colonial design of the american south
TW ryan architecture presents a contemporary reinterpretation of the traditional southern colonial style with its three chimneys house. conversations about the project date back to the brooklyn-based studio's beginnings in 2013, in collaboration with the client and their intensive search for land in the horse country surrounding charlottesville, virginia. the house is sited along a 45-acre property, originally part of a larger homestead used in the civil war, with sweeping views across the western shenandoah mountains. taking influence from the historical architectural context, the team finds a timeless new voice for southern architecture in america.

images by joe fletcher
TW ryan architecture orients the three chimney house with respect for the natural elements of the surrounding landscape. it sits along the edge of the woods, with its main programs divided and rotated into separate wings that frame scenic views from each room. the central structure of the house begins from the driveway as a low entry hall clad in a light-colored brick with clear influence from the modernist style. a glass gallery serve to link the library and anchor the entry with the rest of the house. the warmth of the exterior continues toward the interior with the unfolding the circulation of the main hall and occupants begin to interact with the three distinctive chimneys, animating their understanding of the architecture.
the design team at TW ryan architecture makes use of three monumental chimneys to subtly reference those of virginia's stratford hall. rising thirty feet, these three great chimneys mark the house on the site, and are visible from almost every point along the sweeping, 45-acre site. a counterpoint to the chimneys, twelve-foot tall site walls define the progression of movement through the house. they intentionally conceal and reveal the panoramic mountain views while registering the sloping natural landscape against the house.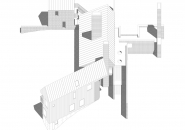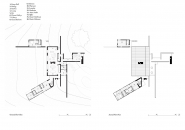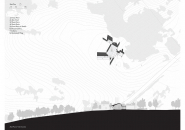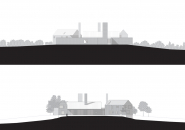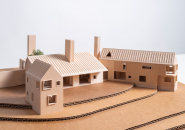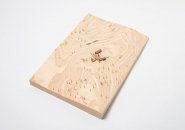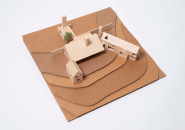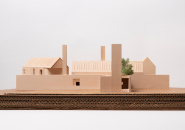 axonometric

floorplans

site plan

elevations

physical model

physical model

physical model

physical model
project info:
project title: three chimney house
architecture: TW ryan architecture
location: charlottesville, virginia, USA
property area: 45 acres
built area: 5,800 square feet
completion: 2020
photography: joe fletcher