unopiù's modular urban balcony system maximizes your outside space
the unopiù urban balcony offers a versatile extension of your home, no matter the size of your outside space. the modular, flexible and cutomizable furniture system was designed by meneghello paolelli associati as part of the italian brand's 2020 outdoor collection. creating what they call a multitasking balcony, the design supports a highly functional space which can be used to house plants and flowers, as an area for laundry, and as a place to study or work.

all images courtesy of unopiù
with the unopiù urban balcony, the design recognizes how terraces of all shape and size have the capability to become an important part of our living spaces, especially with constraints of outside time during the COVID-19 pandemic. the furniture system helps redefine even the smallest of outdoor spaces. 'the city lives and the public and private areas evolve. there is a transformation in the use of areas and urban balcony understands this change by creating new multiple solutions of micro-furnishings for a better use of city balconies or small outdoor areas,' explains meneghello paolelli associati.
the design's slatted structure is crafted from iroko wood, an exclusive timber renowned for its quality and durability outdoors. this can be fixed to ceilings or walls. its wooden frame supports a multitude of white aluminum accessories, including flowerboxes, pots, cupboards, shelves, worktops, clothesline, screens and shades. these flexible fittings can be moved, inter-placed and switched around to help you tailor the furniture to fit your outside needs.
'urban balcony is a system which can be configured for modern terraces. eating, reading, studying, working, hanging out, washing, looking after plants and flowers, relaxing: these are just a few things one can do in this renewed space that, however small it might be, is of truly great value,' concludes the designers.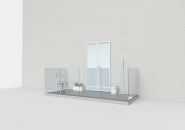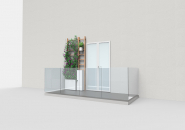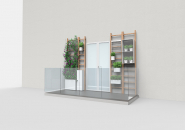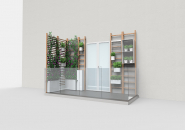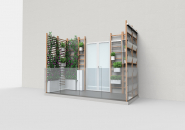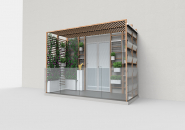 product info:
brand: unopiù
model: urban balcony
designer: meneghello paolelli associati