zaha hadid architects to build CECEP's new shanghai headquarters
following an international design competition, zaha hadid architects (ZHA) has been selected to build the new shanghai headquarters of the china energy conservation and environmental protection group (CECEP). according to the architects, the project has been designed to be the 'greenest' building in the city, with sustainability embedded into every aspect of its design and construction. located adjacent to the yangpu bridge on the huangpu river, the design responds to its riverfront site and is defined by the history and dynamism of shanghai. the mixed-use urban campus comprises three office towers as well as shopping, dining, and leisure facilities linked by a park that connects directly with the city.
with shanghai's significant temperature differences between day and night, each building's integrated thermal mass provides reductions in both heating and cooling consumption. meanwhile, the extensive use of locally-produced, prefabricated components will reduce the project's embodied carbon and also support the local economy. the design also incorporates rainwater harvesting to irrigate green spaces and landscaping. meanwhile, photovoltaics located at roof level and within the façades are connected to battery storage and a micro-grid to provide on-site energy production that will reduce energy consumption by 25%.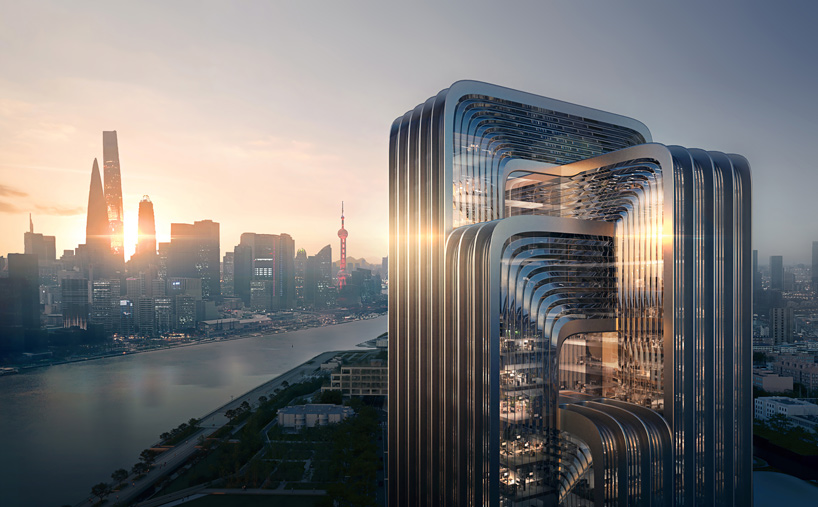 image by negativ
in addition to high-efficiency heating and ventilation with waste heat recovery, together with cooling systems using non-potable water, ZHA's design also uses thermal ice storage for cooling. ice generated by chillers at night using off peak electricity is stored in thermal tanks then used for cooling during the day to significantly reduce peak daytime electrical consumption when the cooling load is highest.
the building management system will continually monitor the interior environment and automatically react to changes in internal conditions such as variations in temperature, air quality, natural daylight, or number of occupants. to reduce energy consumption and prolong their lifespan, these intelligent systems will also collate data to predict and optimize energy usage. the new headquarters will use 5G network capability to operate intelligent management and biometric security systems that will eliminate contact with communal surfaces by staff and visitors.
project info:
name: CECEP's new headquarters
client:china energy conservation and environmental protection group (CECEP)
location: shanghai, china
architects:zaha hadid architects (ZHA)
design: patrik schumacher
ZHA project directors: satoshi ohashi, michele pasca di magliano
ZHA project designer: maria tsironi
ZHA project associate: yang jingwen
ZHA project architect: johannes elias
ZHA competition team: nan jiang, maria touloupou, martina rosati, nicolas tornero, serra pakalin, chantal matar, yihui wu, ying xia, zheng xu, carlos bausa martinez, lorena espaillat bencosme, irfan bhakrani, federico fauli, stefano iacopini, shi qi tu, sara criscenti, andres madrid, arian hakimi nejad, valentina cerrone, stefano paiocchi, kate hunter, nelli denisova, che-hung chien
consultants —
civil, structural, MEP & sustainability engineers: ramboll
local design institute: china academy of building research