tomoaki uno architects builds concrete cuboid house with protruding balconies in japan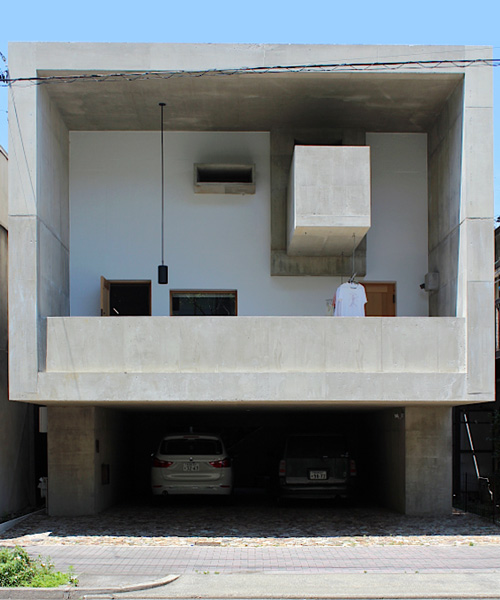 tomoaki uno architects has built shironishi house as a concrete cuboid with protruding balconies that blur the boundaries between interior and exterior. located on a site near nagoya castle, in the city of nagoya, central japan, the residence has been developed for a family with three young sons. the design is based on the clients' main requests: two or more parking spaces; and a large terrace where the family can spend time together and enjoy barbecuing. due to the relatively small size of the site, the japanese architect has decided to place the entire house on a pilotis, a set of posts that raises the building up from the ground, thus making enough space for four vehicles.
all images courtesy of tomoaki uno
tomoaki uno architects has lifted the entire house on a set of posts and wrapped it in thick concrete walls with balconies protruding on the terrace, resulting in a piece of brutalist architecture. sheltered by walls and the roof, the front terrace offers a large place for the family to gather and barbecue together. a concrete balcony, which protrudes from the third level, creates an intriguing detail on the building's front elevation. at the same time, a metal rail hanging below it offers a place for clothes to dry.
in order to secure enough space for the family and future rooms of the three young sons, tomoaki uno has placed the main circulation in the center of the house, and designed it as a spiral wooden staircase. in this way, it takes the least amount of space, while forming the centerpiece of the residence's interior. at the same time, a second, concrete staircase at the back of the lot offers access from the parking level to the main entrance of the house.
project info:
name: shironishi house
architect: tomoaki uno architects
lead architect: tomoaki uno
gross built area: 105.58 m2
location: nagoya, aichi prefecture, japan